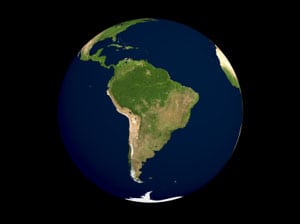 For years, when it came to which countries were at a similar stage of advanced and growing economic development, retailers have had their eyes on Brazil, Russia, India and China, affectionately known as BRIC. However, during this week's NRF Big Show 2014, the new buzzword was Latin America.
The socioeconomic stability in Latin America has led to an emerging middle class and a boom in shopping centers; however it is still an under served market in terms of modern global retail and ecommerce standards.
In fact, Franco Calderon, the president of the Latin America Retail Connection, said during a session at NRF 2014 that retailers should take a closer look at Latin America and consider expanding business into the region since it consists of 600 million possible consumers and $3.24 trillion in potential consumer spending.
"The whole region has begun to experience economic growth," Calderon said.
All of Latin America, Calderon said, is experiencing a financial resilience, low inflation rates, stable and strong currencies, low debt levels, and continued growth in international reserve. So what does this mean for merchants? According to Calderon, it means that Latin America has a new and growing demand from consumers for goods who also have an increase in disposable income.
One of the reasons for this economic growth in Latin America was because women have now entered the workforce. Agustin Solari, CEO and founder of Idearetail SpA, a consumer goods company that distributes brands through wholesale and retail channels, said Latin American women are choosing collectively to delay marriage and having children to focus more on their careers.
Since the middle class is experiencing a disposable income, he said, they are now becoming more attracted to lifestyle brands, gaining access to bank issued credit cards giving them additional options on where to buy, and now have access to smartphones and tablets.
The importance of smartphones and tablets means the expected growth for ecommerce in the near future. Solari suggested that retailers looking to expand their reach in Latin America, should look into doing so with ecommerce first.
"Ecommerce is a good way to explore a new market," Solari said.
All of these factors: working women, growing middle class and financial resilience, according to Solari, is laying out the groundwork for successful retail. "In order to have a successful retail, you need to have a middle class," Solari said.
Some global retailers have already created an offline presence across Latin America. Here is a list of just some of the retailers expanding its reach, according to a slide from Solari's presentation:
Chile currently has a retail presence from Wal-Mart, H&M, Forever 21, The Gap, and Bennetton. Brazil has Wal-Mart, Casino, Decathlon, and Zara. Argentina has Wal-Mart, Carrefour, Zara, Falabella, and Sodimac. Peru has Mango, Bennetton, Falabella, Zara and Sodimac. Columbia has Casino, Inditex, Carrefour, Office Depot, Makro, and Falabella.
Mexico is currently experience a major influx in global retailers such as Wal-Mart, Costco, Home Depot, BestBuy, The Gap, Radioshack, Luxxotica, Autozone, and Bed, Bath & Beyond.
Erin Lynch is the senior content producer at Multichannel Merchant. Erin can be reached (203)899-8461 or connect with her socially on Twitter, Google+, and LinkedIn.