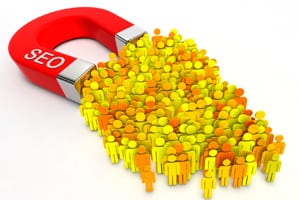 As more and more ecommerce sites spring up across the web, the competition for luring online shoppers remains fierce. Maintaining relevancy across the major search engines improves your likelihood of capturing the online customer early and with a lower cost of entry when considering that the top three search results receive 60% of all clicks, according to research by Opify.
Web gurus have long debated the best techniques for strengthening the rankings of a web site in major search engine results, better known as search engine optimization. As frequently as SEO experts seem to cook up the latest tactics, search engines like Google change the algorithms by which they rank search results. While optimization can seem daunting, the publication Search Engine Journal estimates that 70 – 80% of visitors on the web prefer to click on links that show up organically in search results compared to paid ads.
To wade through the sea of SEO tips and news on search engine changes, online retailers should pay most attention to the key principles that have withstood the test of time.
Keep the SEO pure
One thing is clear. Black hat practices such as stuffing popular but unrelated keywords or phrases into content for better search visibility has become not only taboo, but also ineffective. Search engines have grown sophisticated in their ability to detect such gimmicks and will actually penalize your natural SEO should you participate in these types of practices. Shoppers have caught on to these shady SEO practices too. Misleading customers into visiting a site will cost more than it ever earns.
Content is key
Keeping content relevant, on the other hand, will increase a site's visibility in major search engines such as the consumer friendly Bing. If a term appears more frequently in a site's content, the search engine will consider the site a more valid and relevant source, thereby prioritizing it in its search results, but this is not a one-time fix. A static site will not rank high for any extended period of time; search engines are looking for continuously updated, relevant content as an important factor for continuous page one results.
Search engines have also started to place a greater priority on the content that web visitors actually see in their web browser as opposed to a site's invisible content, such as meta tags and meta keywords. Meta tags and meta keywords appear in lines of the site's HTML coding and provide information about the site's content, but are only one piece of a successful SEO strategy. Google, which accounts for 67% of search traffic, no longer considers these meta elements.
Coding still matters
Meta tags and keywords may have lost some of their clout, but site coding remains integral to a search engine's ability to identify relevant content on your site. Two pages that appear to look identical on the front end can rank entirely different because of their coding on the back end. Search engines use programs called crawlers, which gather information about the content from all of a web-site's pages. Search Engine Journal points out that these search engines "really only read text effectively," so properly coding elements such as audio, video, images and scripts will help the search engine to identify the relevant content on your site with greater ease.
Rich snippets provide an additional way in which searchers can deduce the quality of a web-site's content without having to click away from the search results page into the website. Snippets are the bit of information, which appear underneath the actual link address in a list of search results. Rich snippets provide more detailed information about specific search queries, such as product availability, price and customer reviews. These snippets, which derive from microdata embedded in a site's HTML coding, help to improve search rankings, boost click through rates and attract better qualified business.
Structuring a Successful Ecommerce Site
Your homepage should first and foremost explain what your company does and then branch out. From there, a site should have a dedicated page for each brand and category. A web page can only effectively focus on one or two keywords per page. Trying to optimize for an entire list of key phrases will only dilute the quality of your content.
Having multiple categories and product listings may also allow shoppers to search a site more dynamically, but it can also result in duplicate content and negatively influence the SEO of your site. Canonical tags have now emerged as an important structural element for Ecommerce entrepreneurs. Inserted into the header of a page's HTML code, a canonical tag directs web crawlers to the page it should index, instead of the duplicates. Utilizing these tags can help a site to avoid slipping in the search rankings.
SEO is Social
Blogging has begun to emerge as a legitimate method of increasing SEO results. On the surface, a blog provides a great forum for relaying key industry and product information, but it also provides an even greater opportunity for increasing the frequency of key search terms for your website. Publishing blog content through social media with the inclusion of appropriate site links will also help bolster visibility in search contents.
While major search engines have started to pay less attention to meta tags and meta keywords, they have started to pay more attention to "shares and mentions on social media," according to Entrepreneur. Drawing external links from reputable web-sites will strengthen the relevancy of your site's content.
Stay Speedy Across All Devices
In 2010, Google underscored the importance a web-site's speed when it announced it would include it as a factor in their search algorithm. Nowadays, it has become essential to maintain a speedy site not only on laptops and desktops, but on smartphones as well.
In 2013, Google released new guidelines for mobile search rankings. The research indicated an average loading time of seven seconds for sites on a mobile device, an abysmal statistic when we also know that a load time exceeding one second will disrupt the user's flow. For ecommerce sites, that difference in seconds can mean the difference in sales.
SEO comprises just one strategy when marketing an ecommerce site, but with 93% of all web traffic coming through one of the top three search engines, it certainly makes sense to keep your strategy close, top of mind, and constantly progressing.
Murtaza "Zeke" Hamdani is the Director of Web Services for Celerant Technology.