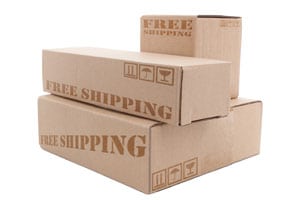 A new study by Innotrac has found that the most popular types of promotions offered by merchants over the 2013 holiday season were shipping offers.
According to the SmartHub Benchmarking Study: Holiday Promotions, 34% of all promotions offered in holiday 2013 were shipping related and the single most offered promotion during the holidays was free shipping.
Thirty-percent of merchants offered free shipping on Thanksgiving and Black Friday, 38% on Free Shipping Day, and the highest incidence of Free Shipping occurred on Cyber Monday with 44.5%, according to the study. While shipping offers topped the list of promotions during the holiday season, according to the study, less than 19% of merchant's offered free shipping on all orders throughout the rest of the shopping year.
During the course of the regular shopping season, according to the report, 40% to 45% of retailers do not offer free shipping at any price point. However, during the holidays that number dropped to 30-34% for all days except for Cyber Monday where only 23% of retailers did not offer free shipping options, according to the report.
Free Shipping offers spiked on Cyber Monday with 45.7% of retailers offering the service on all orders and only 22.5% providing no free shipping options at all.
Erin Lynch is the senior content producer at Multichannel Merchant. Erin can be reached (203) 899-8461 or connect with her socially on Twitter, Google+, and LinkedIn.