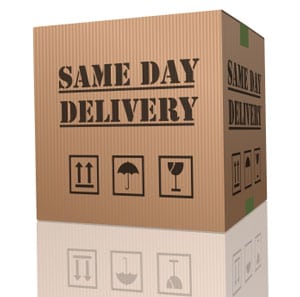 Back in late May, Multichannel Merchant spoke with Tom Allason, CEO and founder of Shutl, who said he was confident the first same-day delivery in the United States was set to happen before July.   We haven't heard of anything since then so we circled back with Shutl to find out if same-day delivery is still possible here.
Shutl, which opened its U.S. offices in San Francisco in January, has seen success in the United Kingdom but has found creating a new market, in a new country, does have its challenges, according to an email from Allason.
"We would certainly have liked to have completed our first delivery by now; however, setting up a new market takes time. As you would expect, our retail partners are driven by their development timelines, not ours," Allason wrote.
So, instead of attempting a same-day delivery this summer, Shutl has decided that the post-summer season, aka September, would be better to "ensure momentum going into the peak retail season," Allason wrote.
Even though there has been an operational delay at Shutl, Allason says it doesn't mean that U.S. retailers are losing interest in the service.  "The world leaders in etail and retail: Google, Amazon, Walmart and eBay are all making same-day and same-hour delivery a priority for good reason," Allason wrote.
The majority of consumers look at delivery as "their greatest frustration," according to Allason, and retailers see it as "the single greatest inhibitor to conversion within a retailer's checkout." But in order to ease consumer frustration and boost ecommerce sales, Allason said, the overall goal should always be "to get product to shoppers where they want, when they want it."
That is where same-day delivery comes in.  "Our view is that on-demand delivery will, like 'free' shipping, become expected and demanded.  In fact, many of Shutl's retail partners in U.K. offer Shutl for free if the customer exceeds a certain basket value threshold," Allson said.
But Allason cautioned that retailers should not look at the delivery of a product as the final stage of an ecommerce purchase. It should be looked at as the last interaction a retailer has with their clients which will most likely leave the longest impression.
Erin Lynch is the senior content producer at Multichannel Merchant. Erin can be reached (203)899-8461 or connect with her socially on Twitter, Google+, and LinkedIn.