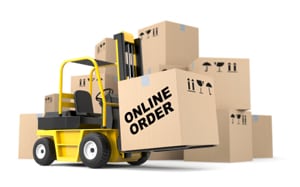 While for many the holidays end once the clock strikes midnight on January 2, for retailers, the work has only just begun. After all the presents have been unwrapped, retailers must prepare for the onslaught of holiday gift returns.
According to Forbes, US consumers are expected to spend $602 billion this holiday season. It is also predicted that this years' holiday returns will reach around 10 percent of overall sales. With over $60 million of merchandise headed back where it started, smart retailers know they need a reverse logistics plan to protect their bottom line and minimize waste.
A 2010 study by Aberdeen Group showed that when companies invested in reverse supply chain improvements they saw a four-fold decrease in cost per return as well as a 12 percent advantage in customer satisfaction. By planning for disposal, recycling or the reuse of the goods re-entering their supply chains, companies can simplify the process not just for themselves, but for their customers as well.
Customer Satisfaction
Although much thought is given to returns management in terms of cost control, customer satisfaction is an equally important part of the process – and an important starting point for retailers. In their annual study on ecommerce satisfaction in the U.S., Foresee reported that Amazon, the top returns customer satisfaction scorer for multiple years, has continued to see increased revenues, loyalty, and recommendations. It is clear that controlling costs during the holidays begins with focusing on the customer experience, as it is what brings shoppers back to the store or website.
Customers want to see quick results when requesting a return, replacement, or repair for a product they have purchased. In order to deliver on these expectations, retailers need to leverage reverse logistics plans, whether it is placing priority on shipments carrying repairs so that they may be returned more quickly or managing inventory effectively so that customers are able to easily swap items for different models, sizes, colors, etc.
Controlling Costs
However, exchanges account for only a small part of the returns cycle; many customers expect their money returned and the item to be taken by the retailer. To partially recoup the loss of sales through returns, businesses must bring items quickly and efficiently through their supply chains. Yet, the returns process itself can be extremely complex. Retailers must manage repairs of products, providing customer service throughout the process, drive sales of refurbished items, and take on the daunting task of logistics and transportation of the goods – not to mention balancing the finances of these activities.
In the face of a complicated reverse logistics system, many look to the giants as examples of success. According to The City Wire, returned Wal-Mart merchandise makes its way back to one of six regional returns centers – each serving approximately 680 stores. Once at the returns center, the products are sorted into four tiers: vendor for credit; donation to United Way; recycle; or landfill.
A reverse logistics plan is not "one-size-fits-all." Each organization must take a hard look at their own supply chain to determine what course of action is best for them. Wal-Mart has the resources to open and staff six regional returns centers, but for most retailers, a reverse logistics plan might need to be on another scale.
Consider the Solutions
There are a few actionable steps companies can consider when planning for the holiday returns process:
Involve your logistics and transportation providers from the beginning. When retailers allow their providers to be partners in the process, returns are executed much more smoothly. When logistics providers have a strong understanding of the capacity they will need to obtain, they are better equipped to be effective in your supply chain.
Take the opportunity to save money while reducing your carbon footprint. Refurbish items to be sold online, or utilize an "outlet" section of your website for imperfect items. This tactic reduces waste and allows customers the option of purchasing a less expensive version of the product they desire.
Utilize technology to aid in the process. There are many enterprise returns management systems available for businesses of all sizes that allow you to track and address reasons for returns and automate the returns life cycle. This allows for quicker, more accurate responses on the part of the retailer, which helps mitigate damage to the bottom line.
Donate goods that cannot be resold to local charities. By coordinating with local nonprofit organizations, retailers can cut transportation costs and also provide assistance to their own community – which allows them to both save money and garner goodwill from items they would otherwise dispose of.
The returns process is complex and challenging, but does not have to be a headache for retailers. Planning ahead and considering all options for cost reduction can greatly alleviate stress and impact on the bottom line that companies can encounter.
Robert Nathan is co-founder & CEO of Load Delivered Logistics.