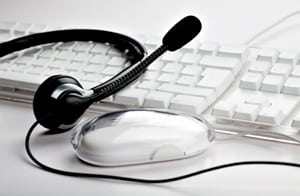 While a focus on social media initiatives seems to be lacking in most contact centers as of late, a new Deloitte study has found that the use of social media is expected to rise within the next 24 months.
The Deloitte Consulting's 2013 Global Contact Center Survey gaged the current state and future of contact center strategies, operations and technology. It also looked at potential growth projections, customer experiences, locations, and organizational alignment.
According to the results, all contact center channels expect a volume growth within the next 12 to 14 months. When asked which channels they expected to see volume increase, the top three answers given by respondents were email (46%), social media (38%), and voice (32%).
The size of the contact center will also rise, according to 25% of respondents.  Although 52% said they plan on making zero changes, 15% said the contact center size and numbers will decrease, and 8% said they weren't sure what the future holds in the next one to two years.
While the size of many contact centers will grow, the results showed that it doesn't necessarily mean a change in the geographical location. According to the results, only 36% of those surveyed said they planned to move their contact center to another location.
No matter what you call it: crosschannel, multichannel, or onmnichannel, reaching your customers through multiple channels will be the focus of the contact center within the next two years. In fact, 92% of those surveyed view "the customer experience as a differentiator" when it is offered through multiple contact channels. Of those organizations 42% offer social media in the contact center, 34% offer voice self-service and 30% offer web collaboration.
When it comes to capturing customer feedback, even within contact centers that offer multifaceted channels, monitoring phone calls was still the most effective to 55% of respondents. According to the results, "Direct Customer Feedback via the web or email and customer surveys continue to be a popular method for capturing customer feedback" with 46% of respondents. Surprisingly, social media was the lowest focus on capturing feedback with 13%.
Although social media was the lowest priority this year, according to the results, it will grow within the next two years. According to the results, when asked "which channels do you expect to see volume increases?" 46% said email, 38% said social media, 32% said voice, and 30% said mobile.
The methodology of the survey conducted by Deloitte Consulting was a survey of 300 responses representing over 560 contact centers in four continents.