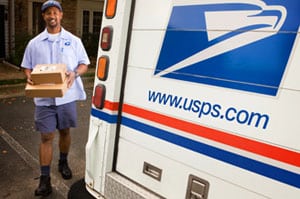 While the U.S. Postal Service ended the first quarter of 2014 with a net loss of $354 million, its shipping business increased by 14%, according to a release issued on February 7.
While the $354 million loss marked a sustained loss for the Postal Service for the past 19 out of 21 quarters, USPS said revenue has been able to grow this quarter "by capitalizing on opportunities in Shipping and Package Services and has aggressively reduced operating costs."
According to the release, Shipping and Package revenue increased $479 million compared to Q1 in 2013. This growth, the Postal Service said, was fueled by an increase in online shopping and Sunday deliveries in limited U.S. markets.
A closer look into the numbers provided by the USPS shows that total mail volume in Q1 this year decreased from 43.5 billion pieces to 42 billion pieces. First-Class Mail declined by 4.6%, Standard Mail volume declined by 2.8%, and Shipping and Package volume increased by 10.3%.
However, the USPS did say that "losses continue to mount due to the persistent decline of higher-margin First-Class Mail, stifling legal mandates, and its inflexible business and governance models."
Postmaster General and CEO, Patrick Donahoe said in the release that the Postal Service cannot return to complete financial stability without government action. According to the release, without the passage of the Postal Reform Act, "the Postal Service will be forced to default on another required $5.7 billion retiree health benefits prefunding payment due by Sept. 30, 2014, because it will have insufficient cash and no ability to borrow additional funds at that date."
If the USPS ends up with insufficient cash, the release said, it would be required "implement contingency plans to ensure that all mail deliveries continue." That contingency plan could require the Postal Service to pay its employees and suppliers ahead of the federal government in order to ensure that mail delivery continues.
Erin Lynch is the senior content producer at Multichannel Merchant. Erin can be reached (203) 899-8461 or connect with her socially on Twitter, Google+, and LinkedIn.
Related Articles:
PRC Decision Threatens Financial Viability of Mailers
Polar Vortex Grounds Carriers
Issa Supports Canada Post Decision to Remove Door-to-Door Mail Delivery