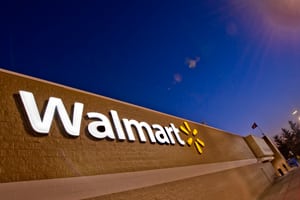 In an effort to expand its network and ecommerce operations, Walmart Canada announced that it will invest close to $500 million over the next 12 months and add an additional distribution center.
In a release issued on Feb. 4, Walmart said it plans to complete 35 supercenter projects from February 1, 2014 to January 31, 2015. The company also announced it will expand its distribution network "to support its growth and will continue to expand its e-commerce operation" at walmart.ca.
While Walmart said the locations for specific store and distribution center projects will be announced as specific projects become finalized, the projects will represent a combined investment of close to $500 million. The investments, the release said, will include more than $376 million for store projects, $91 million for distribution network projects to grow Walmart Canada's fresh food capability, and $31 million for ecommerce projects.
"The combined expansion is expected to generate more than 7,500 jobs over the next year, including construction jobs," the release said.
The Walmart Canada store count is estimated to hit 395 by the end of January 2015, which will include 282 supercenters and 113 discount stores.
Although it was not mentioned in the release, Walmart will be building a second "massive" distribution center outside of Calgary, according to an article in the Calgary Herald. The facility, located in Balzac, will include a 500,000-square-foot distribution center with 84 loading bay doors, according to the article.
Michael Kehoe, a retail specialist based in Alberta, told the Herald that "[the] expansion announcement is a huge vote of confidence in the Canadian marketplace."
Erin Lynch is the senior content producer at Multichannel Merchant. Erin can be reached (203) 899-8461 or connect with her socially on Twitter, Google+, and LinkedIn.