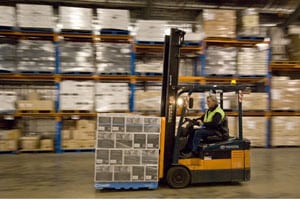 Here is a listing of recently announced expansions, additions and closures in retail distribution and fulfillment centers:
Sporting goods company Mizuno has fully transitioned all its distribution and manufacturing operations to a new 520,000-square-foot high-tech facility in Braselton, GA.
A long vacant 48-acre site formerly owned by Bethlehem Steel in North Arlington, NJ could become the new home of a 139,000-square-foot FedEx distribution hub. Also, the Yonkers, NY Industrial Development Agency has approved $2.33 million in sales tax exemptions on construction materials and a temporary property tax abatement for FedEx to move forward with its planned $121.2 million, 123,000-square-foot distribution center there.
Whirlpool Corp. is investing $21 million to increase the size of its distribution network by leasing a new 750,000 square-foot regional distribution center in Channahon, IL, outside Chicago.
Saddle Creek Logistics has broken ground on a new 1.1 million-square-foot distribution center in Joliet, IL, which will open in early 2016. It replaces a 590,000-square-foot DC in the Chicago area, and is one of 37 facilities in the company's national network.
UPS is seeking permission to build an 180,000-square-foot parcel distribution center adjoining London Gateway in a major boost to the container port's bid to become one of Europe's biggest logistics hubs.
Construction has begun on a 450,000-square-foot Walmart distribution in a commerce part in Alamance County, NC, which is also home to a 900,000-square-foot DC project by German grocery chain Lidl.
Amazon plans to open a 500,000-square-foot fulfillment center in Joliet, IL, The site, which will create 1,000 full-time jobs when it opens, is the company's first in the state. Also, just months after opening its first distribution center in Connecticut, Amazon announced plans for a second facility there, a sortation center in Wallingford to aid the company's same-day delivery push.
Macy's opened its fourth U.S. distribution center in Owasso, OK, creating more than 1,500 full-time and part-time jobs.
Gerber Childrenswear is building a 477,000-square-foot distribution in Berkeley County, SC.
Kenco plans to break ground on a new 230,000-square-foot distribution center in Zeeland, MI for customer Mead Johnson Nutrition. It will replace a nearby facility that Kenco has outgrown.