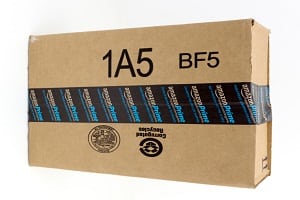 Not to be outdone by Walmart's recent news of unlimited free shipping for $50 a year, half the price of Amazon Prime, the superpower of Seattle announced it will make 1 million items available for free same-day shipping to Prime members in 14 metro markets.
The cost of same-day delivery had been $5.99 for Prime members. Non-members will still pay a $9.98 basic fee and 99 cents per item to get same day.
The metro areas covered by Prime same-day service include Atlanta, Baltimore, Boston, Dallas-Ft Worth, Indianapolis, Los Angeles, New York, Philadelphia, Phoenix, San Francisco/Oakland, Seattle-Tacoma, Washington, D.C., San Diego and Tampa Bay, representing 500 cities and towns. Prime members in those locales who order before 12 noon seven days a week will get their stuff delivered by 9 p.m., provided the tab is over $35.
Product categories covered include electronics, books, movies, music and games, small appliances, everyday household items and travel needs.
To help fulfill this new influx of same-day orders, Amazon recently announced it was hiring 6,000 more workers to staff its 50+ distribution centers across the U.S., on top of the current workforce of 50,000.
"Amazon's announcement is another step in their relentless focus on faster and faster free shipping, selection and value," said Scot Wingo, executive chairman and founder of ChannelAdvisor. "Retailers were already struggling to keep up with two-day shipping and now the bar has been raised again."
"What I found most telling is that they didn't want to get into the details of who pays for the cost of shipping," said Tim Sailor, owner of Navigo Consulting Group. "But given that they've opened up all these new regional DCS in the last year alone, this is the next logical step for them."
Sailor said Amazon's free same-day offering had to be in the works for a while, given its massive investments in infrastructure and the logistics around such an undertaking, and thus wasn't a reaction to moves by Walmart and others.
"There are two things in play here: This really legitimizes same day-delivery as a differentiator, and it's being offered for free," he said. "I'm not sure about profitability for Amazon; maybe they have a different cost basis we don't have visibility into."