What don't they have up their sleeve?
Pushing further into futurama territory, Amazon has now won a patent for an "airborne fulfillment center" (AFC) which would be a dirigible-like airship with drones shuttling back and forth with order deliveries. One use case cited: delivering food and drink to fans at a football game. The patent was awarded in April but just circulated this week.
This all hinges, of course, on FCC approval for commercial drone deployment, which hasn't proven easy. The FCC has backed off an earlier requirement that only licensed pilots act as drone operators, but operation beyond line of sight continues to pose a challenge. So in other words, don't expect Amazon to deliver your dog and beer at Metlife Stadium anytime soon.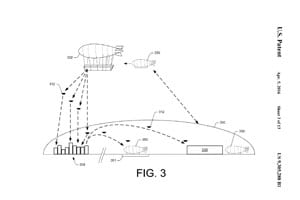 On top of that, the ecommerce giant is planning a blowout "Amazon Digital Day" on Dec. 30, with deals on over 1,000 items to encourage post-holiday spending. The company is trying to one-up Chinese rival Alibaba and its $17.8 billion Singles Day concoction, as Digital Day is in addition to this past summer's Prime Day. The latter was criticized in some quarters as being a massive yard sale to clear out slow-moving inventory. Even before it happens, Digital Day is also getting slagged for offering older video games and movies.
Lastly, Amazon is building an Uber-like app that matches truck drivers with shippers, which should launch in January, according to Business Insider. This is yet another front in Amazon's ongoing foray into logistics and shipping, as it diverts more delivery volume away from the major carriers to better control its own destiny and costs.
While Amazon did experience some late-season labor issues this month courtesy of aggrieved pilots at Atlas Air, which the company owns a stake in as part of its Prime Air operation, this did not materially affect holiday performance. And oh yeah – Amazon said it delivered more than 1 billion items in November and December, five times the total from 2015.
Mike O'Brien is Senior Content Manager of Multichannel Merchant