Black Friday 2016 blew out last year's ecommerce numbers, passing the $3 billion dollar mark for the first time to reach $3.34 billion in online sales, according to Adobe Digital Insights. This was an increase of 21.6% from 2015, as deals and mobile traffic drove the growth.
Overall, the period from Thursday through Sunday brought in $9.36 billion according to Adobe, up 16.4% over last year. Ecommerce sales on Thanksgiving Day were $1.93 billion, an 11.5% increase. Adobe's analysis is based on 22 billion site visits since Nov. 1; an estimated 80% of ecommerce traffic passes through its marketing cloud.
Analysts wondered if Black Friday would supplant Cyber Monday as the largest online sales event in the U.S., as many retailers and ecommerce companies pulled online deals forward. As of 10 a.m. on Cyber Monday, U.S. online sales reached $540 million, prompting Adobe to reaffirm its forecast of $3.36 billion for the day, a 9.4% increase over 2015 that would edge out this year's Black Friday.
Door-buster traffic was down at stores this year, likely due to the increase in ecommerce spending and top offers being dispersed over many days. According to the National Retail Federation and Prosper Insights & Analytics, 29% of shoppers headed out to stores after 10 a.m. on Black Friday, up from 24% last year; less than 15% of them showed up at 6 a.m. or earlier.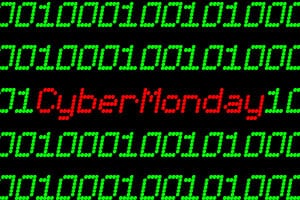 Mobile sales grew at an even faster rate than overall online sales on Black Friday, hitting $1.2 billion for a 33% increase over 2015, according to Adobe. This represented a payoff for retailers like Walmart, Target, JC Penney and Kohl's, all of whom have invested heavily in mobile apps. According to the NRF and Prosper, 56% of smartphone owners and 53% of tablet owners used their devices to assist with Cyber Weekend shopping.
Luiz Maykot, a data science analyst with Adobe Digital Insights, said if retailers were able to drive up mobile conversions beyond the current rate of 1.9%, it would add about $2 billion in Cyber Weekend sales. The desktop conversion rate is more than two times higher, at 2.4%, according to Adobe.
"I don't think security is a concern with mobile users, but it's hard to fill out credit card information on the screen's real estate," Maykot said. "Another factor is a large number of retail websites are very poorly optimized for mobile, with text not even sized for the screen. They have a lot of work to do to close the gap, but even given those factors mobile commerce is doing incredibly well."
The kickoff to the holiday shopping season highlighted trends in mobile usage, according to research from Criteo. Transactions on Android-powered tablets were down 25% from 2015, and down 12% on iPads, as tablet usage overall shrinks. iPhone usage was up 59% over the weekend, compared to an 18% gain on Android phones. Transactions on iPhones were up 58%, compared to a 27% gain on Android.
More shoppers went online over the four-day weekend than hit the stores, according to the NRF and Prosper. Their survey found 108.5 million people bought online over the weekend, compared to 99.1 million shopping in stores.
Merchants did a slightly better job in getting inventory queued up over the weekend, according to Adobe. Out-of-stock messages were at 9.1%, compared with 9.7% in 2015. For Black Friday alone it was slightly worse, at 10.5%.
Cyber Weekend is becoming an increasingly global phenomenon, according to data from IBM. On Thanksgiving, online sales for global retailers increased nearly 24% over 2015, IBM found. For Black Friday, it was up by more than 28%. Over the entire weekend, IBM said, global retailers saw online sales grow nearly 20%.
The top five retailers in terms of fastest time to a live agent by phone, according to StellaService, were L.L. Bean, J. Crew, Lululemon, Pottery Barn and Amazon. In terms of speed to a chat agent, the firm listed Kohl's, Home Depot, Estee Lauder, Lowe's and Office Depot as the top five.
"We're starting to see chat becoming the second-favorite channel for consumers, as larger retailers like Walmart, J Crew, Target, JC Penney and Nike are only using phone and chat, getting rid of email entirely," said Kevon Hills, senior vice president of operations and insights for StellaService. "The average response time on chat over Cyber Weekend went down a bit this year, from 51 seconds in 2015 to 60 seconds, as companies at the bottom struggled and dragging it down."