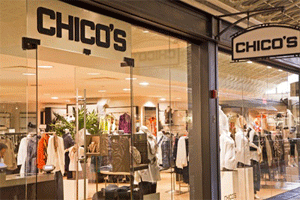 In order to rationalize costs and focus more on omnichannel, Chico's FAS told analysts during a fourth quarter conference call it planned to accelerate its store closure plan, shuttering 120 locations through 2017, including 35 this year, at a total cost savings of $55.2 million.
The company is also scaling back its new store openings, with plans for 40 new stores in 2015, down from 60-70 stores in earlier projections and well below its pace from the past several years. Chico's capital budget for 2015 is $100 million, 29% lower than the average over the past three years.
As part of the overall realignment, Chico's plans to cut 240 positions, representing about 12% of its headquarters and field management staff. The company took a $8.2 million restructuring charge in its fourth quarter based on the headcount reduction.
"While we still believe that all of our brands have store growth potential, given the current retail and apparel environment, we feel it is prudent to reduce the pace of our new store openings in the near term," said David F. Dyer, Chico's president, CEO and director.
Dyer said Chico's will continue to focus on omnichannel, including a $30 million investment in a new point of sale system.
"Our omnichannel success underscores the fact that our customers utilize multiple buying platforms and have multiple connection points," he said. "Accordingly, we have been looking for opportunities to reduce store count, while preserving bottom line profitability. As we have consistently done, we will continue to close locations that are underperforming our expectations."
According to the Wall Street Journal, private equity firm Sycamore Partners last week abandoned its attempt to take Chico's private after failing to line up financing on acceptable terms.