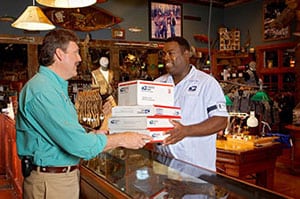 It was another one of those good-news-bad news for the U.S. Postal Service. The USPS's third-quarter revenue increased 3.2% compared to the same period in 2013, but it suffered a net loss of $2 billion.
First, the good news: Shipping and package revenue was up 6.6%, and shipping and package volume increased 7.7%. Also, standard mail revenue was up 5.1%, driven by a 0.9% increase in volume and the January 2014 price increase. Standard mail volume saw a 0.9% increase.
"We're seeing momentum in our package business and continued use of direct mail as an advertising medium," said Postmaster General and Chief Executive Officer Patrick Donahoe in a press release. "We've been effective in developing and marketing our products, and we're improving how we leverage data and technology—all providing a higher return on mail for many customers and causing them to take a fresh look at the Postal Service."
But USPS's bad news overshadows the good: It has now recorded a loss in 21 of the last 23 quarters, and the $2.0 billion net loss is nearly three times its net loss of $740 million for the same period last year.
The USPS's total operating expenses for the third quarter of 2014 were $18.4 billion, an increase of $1.5 billion from the same period last year, driven mainly by the workers' compensation fair value adjustment. Compensation and benefits expenses increased by $15 million, or 0.1%, compared to the third quarter of 2013, as contractual pay increases were offset by work-hour reductions and more efficient use of available labor flexibility.
"Due to continued losses and low levels of liquidity, we've been extremely conservative with our capital, spending only what is deemed essential to maintain existing infrastructure," said Chief Financial Officer and Executive Vice President Joseph Corbett in a press release. "To continue to provide world-class service and remain competitive, we must invest up to $10 billion to replace our aging vehicle fleet, purchase additional package sorting equipment, and make necessary upgrades to our infrastructure."
Corbett also said that the USPS will be unable to make the required $5.7 billion retiree health benefit prefunding payment to the U.S. Treasury, due by Sept. 30. USPS said comprehensive postal legislation is necessary to eliminate this liability and provide a basis for the USPS to return to long-term financial health.