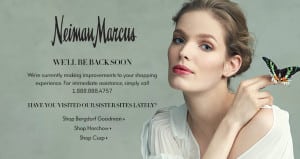 And we have our first Black Friday ecommerce casualty. Neiman Marcus has been down since 8 a.m. EST.
According to Catchpoint Systems, the Neiman Marcus website has been mostly unavailable. It has only been up intermittently, or showing an error message on the home page. This represents the first significant outage of the day.
For the record, Neiman Marcus has made no mention of the outage in its social media channels.
Meanwhile, across the pond, Astound Commerce reported this morning that Argos has been struggling to deal with the high volume of Black Friday traffic on their site, suggesting they have not learned their lesson from last year, when their site buckled under the high demand.
"Argos had attempted to follow Amazon's lead by offering deals over longer than just a twenty-four hour window," said Terry Hunter, Vice President of Ecommerce and Client Strategy. "Perhaps this was done in the hope it would alleviate pressure on their back-end systems on what is now the single biggest day in the UK retail calendar."