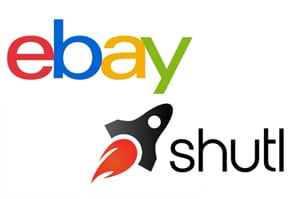 eBay has acquired U.K.-based same-day delivery courier service Shutl, and will use the acquisition to boost its eBay Now to 25 markets by the end of 2014. Financial terms of the Oct. 22 deal have not been disclosed.
eBay included the announcement as part of a press release which showcased a plethora of the ecommerce marketplace's new features and enhancements. Meanwhile, Shutl founder and CEO Tom Allason made a similar announcement about the acquisition in a blog post on the Shutl website.
According to the Shutl blog post, the Shutl service will be used today to launch eBay Now's presence in Chicago. eBay Now will launch in Dallas later this year, and select international markets, including London in early 2014, according to eBay.
"… this is very far from the end of the road for Shutl. Rather this is a doorway to a much greater opportunity, one that we at Shutl can't wait to start executing on," Allason blogged.
Allason said Shutl will continue to service current U.S. and U.K. retial clients.
Speaking at the ChannelAdvisor Catalyst conference April 30, Devin Wenig, president of eBay Marketplaces, said eBay did not want to get into the warehouse business. Wenig said eBay's plans were to will continue to work with merchants in eBay Now service areas and have the merchants' own own couriers made deliveries on eBay's behalf.
During a June interview, Steven Chein, vice president and general manager for Shutl in North America, said the U.K. market had been open to same-day delivery. The customers had not had to pay for the delivery service, as it is something that the merchants themselves subsidized.
"The retailers over there have done the math and they figured they can get better conversions and bigger order sizes if they offer (same-day delivery) for free or at a reduced rate.," Chein said.
eBay charges customers $5 per order to use its eBay Now service, which has been up in running in the San Francisco Bay Area and in New York City.