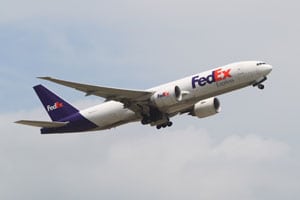 As it is losing money from fuel surcharge revenue due to falling oil prices, FedEx plans to increase its fuel surcharge rates on Feb. 2, effectively putting them in line with rates from rival UPS.
Assuming current prices hold, the fuel surcharge for FedEx Express and International products will increase from 4.5% to 6.5%, and for FedEx Ground, FedEx Home Delivery and FedEx SmartPost it will increase from 5.5% to 6.5%. Should fuel prices fall further, those surcharges could rise as much as 4% and 3.5%, respectively.
"While second quarter results benefited slightly year-over-year from the net impact of fuel, due to lower fuel prices this year versus last, the year-over-year reduction in fuel surcharge revenue largely offset the benefit of the lower fuel prices," said FedEx Executive Vice President and CFO Alan Graf, explaining the change on the company's recent second quarter analyst call.
FedEx just went through two years of taking less in fuel surcharge revenue than UPS, based on the latter's recalculation of its surcharge tables in 2012, "and they had enough," said Rob Martinez, president and CEO of Shipware. Both companies had been largely in lockstep on fuel surcharge calculations prior to that.
"The new FedEx fuel surcharge tables are more closely aligned to UPS, which gives FedEx the opportunity of taking greater profits off the table without losing customers while still showing customers and prospects a slight advantage over UPS," said Martinez. "That's up to a 4% increase in revenue without having to incur any costs.  It's a pretty nice deal for FedEx shareholders, but a lousy deal if you're a shipper."
According to Martinez' calculations, the new fuel surcharge tables give FedEx a slight advantage in terms of offering a cheaper rate for all of its products across most fuel prices, with parity in a handful of others. The only advantage for UPS, Martinez said, was in its ground product when fuel is $4.11 per gallon.
Shipping and logistics consultant Jerry Hempstead said FedEx did not publicize its changes, but quietly announced it over the holidays on a web page that lists the surcharge tables.
"At the end of the day (FedEx) knew that their lower fuel surcharge was unappreciated by shippers both on an invoice level and even in the analysis of competing bids, because they're largely unaware of the rates, and therefore they could raise what they charge without losing any of their customers," Hempstead said. "The new tables give FedEx parity or a slight advantage over UPS, depending on the index for the month."
Hempstead added that the vast majority of shippers aren't going to hire or fire a major carrier based on differences in fuel surcharge rates. "Other than reps bringing up the advantage in sales calls, it's largely invisible," he said.
"The sad reality is that when fuel was going up, (FedEx) did not hesitate to pull triggers and increase what shippers pay, but now with the decline in the price of fuel, they taketh away some of the savings that shippers should enjoy," Hempstead said.