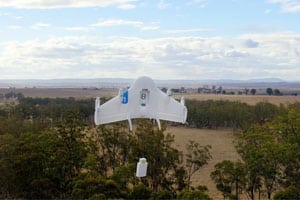 The battle for control of the ecommerce skies has just heated up.
For the past year, Google has been quietly testing its Project Wing delivery drones in California through an agreement with the National Aeronautics and Space Administration (NASA) that grants it an exemption from Federal Aviation Administration (FAA) restrictions on commercial drone operations, according to a report in The Guardian. The tests have been conducted over private property in a remote location.
The Project Wing drone, which is capable of speeds of up to 100 mph, weighs less than 55 pounds. Google is testing whether it can use 4G and LTE mobile phone signals to file flight plans and communicate with computerized air traffic control systems, the Guardian reports.
While drone testing for commercial purposes requires Federal Aviation Administration (FAA) approval, the paper reported that Google has been able to skirt this requirement by receiving a Certificate of Waiver or Authorization (COA) from NASA, which is normally intended for government agencies. Among other things, this waives the onerous requirement of having a licensed pilot operate the drone.
Amazon meanwhile has been operating by the FAA playbook for its Amazon Prime Air program. In May, the FAA said it would allow commercial testing of drones beyond line-of-sight from the pilot, which Amazon executives saw as a positive development toward their ultimate goal of using drones across the U.S. for same-day delivery.
You can read the rest of the story here.