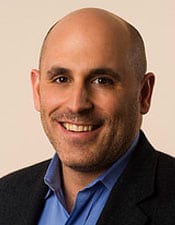 The July 21 launch of Jet.com gave a good indication of its hoped-for trajectory to $20 billion in annual sales by 2020, according to founder and CEO Marc Lore.
"We did over $1 million in sales on the first day, which was well ahead of our own expectations," Lore told Multichannel Merchant. "So we're feeling really good about things right now."
Ecommerce marketplace Jet is betting that its model – predicated on pulling out supply chain costs to drive consumer savings, while making money solely on a $49.99 per year subscription fee – will lead to ultimate success in a space dominated by Amazon.
In fact, Lore and a few other executives of Quidsi, which he founded, spent a couple years at Amazon after it acquired the company known for Diapers.com in 2010 for $550 million – in effect buying a competitor out of the market.
Jet has a whopping $225 million in cash from investors, and isn't afraid of red ink as it scales up over the next five years to that lofty $20 billion a year goal. For instance, the company plans to spend $100 million on a marketing and advertising blitz that includes national television spots this fall, a social media campaign, retargeting, outdoor displays and direct marketing.
Jet uses a dynamic rules engine to drive cost savings through real-time optimization during the order process, determining the most efficient fulfillment options based on proximity to customer, basket size and other factors. Sellers can determine how much of the cost savings to pass on to customers while maintaining their margins.
At launch there were 2,500 merchants registered on Jet, and another 2,400+ have reached out to join since then. The company is evaluating their service levels before integrating them on the platform.
By choosing options that affect things like returns and shipping times, consumer can see their savings add up. Lore said this allows Jet to deliver prices that range from 10% to 15% lower than anywhere else online.
"We're constantly optimizing and looking at their entire basket to figure out the best options to get products to the consumer, and at all the retail locations where inventory is and how much it costs to get it there," Lore said. "Other marketplaces ask the consumer to pick a retailer at the product level. We think that's fundamentally inefficient, so customers are picking the retailer once they've ordered their entire basket."
Lore said Jet is following one successful practice from Quidsi, while ditching another. What worked well: Developing a deep emotional connection to consumers by humanizing the experience. "We're investing in customer care, in all the touchpoints that go into creating a brand personality and voice," he said.
What Quidsi got wrong, Lore said, was failing to develop a business model built to win on price.
"Like most companies we were going after people willing to pay a premium for our service," he said. "We've since learned there's a much bigger opportunity to innovate around price, because there are a lot more people that care about price than those that care about (premium) service. If we can pull costs out of the system and empower both merchants and consumers by make all our costs transparent, we can fundamentally change and reinvent the way people think about ecommerce."
While some have suggested Jet has to get consumers to change their online buying behavior in order to succeed – loading up large order baskets instead of single items as often happens on Amazon and other sites – Lore said this wasn't the case.
"Our business model isn't contingent on people doing that," he said. "Out of the gate, we're able to bring them lower prices because we don't make a profit from selling but from memberships. As long as we're able to deliver enough value for that $50 fee then the model is viable. It's up to consumers how much they want take advantage of Jet's technology and model to save."
On the fulfillment side, Jet has distribution hubs in New Jersey, Kansas and Nevada, where it stocks everyday essential items like dog food, shaving cream, paper towel and diapers. Everything else, he said, will be drop shipped from merchants. "Having three centers is totally sufficient to ship just about anywhere (in the U.S.) in two days, and more than half the country in one day," Lore said. "We think that's the right warehouse footprint."
A recent Wired article suggested that in some instances, Jet's cost advantage over Amazon can be whittled down by factors such as frequent shopper discounts, and that competing with Amazon on price alone could be a risky proposition. Doubters also point to Amazon Prime's other perks like streaming music and video, Prime Now same-day delivery in some cities and unlimited cloud-based photo storage as value-adds that are tough to beat.
On the price point, ecommerce intelligence firm Profitero did an analysis during Jet's first week in business, analyzing 16,000 items for sale on Jet, Amazon and Walmart.com. It found Jet was priced on average 9% lower than Amazon and 6% lower than Walmart.com.
"Amazon Prime is big on shipping convenience and entertainment such as streaming services," Lore said. "While still competitive with shipping speed, Jet is laser-focused on saving our members as much money as we can."