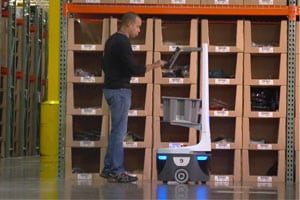 Andover, MA-based Locus Robotics, a company spun out of third-party logistics provider Quiet Logistics, has begun production and implementation of a DC-based order fulfillment robot which it sees as a next logical step beyond Kiva, the robotics firm taken off the market when it was acquired by Amazon in 2012. In fact, Locus is hoping its robots will eventually be used for store-based omnichannel fulfillment.
"Because technology has changed significantly since Kiva was developed in the early 2000s, we've been able to evolve both in terms of capabilities and cost, deploying robotic technology in a different way," said Al Dekin, senior vice president of sales and marketing for Locus. "It's a smaller form factor mobile robot which works alongside fulfillment associates."
According to Dekin, Locus robots can be deployed a few at a time, without any major facility retrofitting. Kiva on the other hand required a major retrofit if it wasn't installed in a new facility. Dekin said the founders of Locus Robotics are very familiar with Kiva through a deployment at a distribution center of its client Gilt in Louisville, KY.
"With one piece of hardware – the robots – you can literally walk into an existing facility and deploy several of them as a pilot in days or weeks, instead of months, shrinking deployment time and the implementation risk," Dekin said.
In addition, Locus uses existing storage space for its robots, whereas Kiva requires specialized storage pods and workstations.
The first commercial deployment of Locus Robotics is at a DC of active apparel firm Outdoor Voices in Devens, MA. Dekin said it has resulted in overall productivity improvements of 5-8x, specifically around picking. He said robotic-assisted picking also reduces the incidence of mis-picks.
Dekin gave a scenario to describe how Locus works. A robot receives a command for an order containing two items, knowing where they're located in a DC. It goes to both locations, where an associate picks the item, scans it and places it in a tote, interacting through an external interface bolted to the robot. The robot then conveys the items to where they're packed and shipped.
"We created way to take unproductive walking out of the operation," Dekin said. "The robots do all the transporting within the DC, allowing associates to focus on specific productive tasks."
Asked about workforce reduction with the use of Locus robots, Dekin said it depends on what the business objective is. "Some companies might be trying to reduce their labor force, while others may just want to get more capacity out of the labor they have," he said. "There are many different aspects to the labor challenges a lot of these companies are facing today."
Bruce Welty, chairman and CEO of Locus Robotics, said the company has seen a great deal of interest from retailers and ecommerce firms in its solution, and can envision its robots being deployed in the near future for store-based fulfillment functions.
"Maybe they won't be placed in 200 or 400 stores, but robots need to be there because it's where the customer is and where lots of inventory is be fulfilled," Welty said. "We see it as being a big part of omnichannel operations."