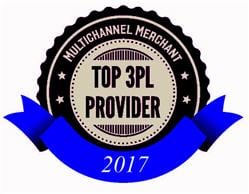 With ecommerce continuing to grow, so does the number of fulfillment options available to merchants. In particular, an increasing number of third-party logistics providers (3PLs) have emerged, handling all or some fulfillment operations for merchants who don't see it as a core competency.
The second annual Multichannel Merchant Top 3PLs 2017 directory has just been released. It is a unique resource vetting only 3PLs that are ecommerce qualified and experienced. The online resource is a searchable database/directory for merchants looking for a qualified 3PL provider.
The MCM Top 3PLs 2017 enables merchants to search through qualified vendors using criteria such as merchandise category specialties, percentage of B2B vs. B2C business, order volume handled and total number of clients to help them narrow down the field of possible vendors for their particular needs.
According to The 2017 3PL Study from C. John Langley, Jr., Ph.D., and Capgemini, 75% of shippers who use logistics services said the use of a 3PL contributed to overall logistics cost reductions, while 86% said it helped improve customer service. The survey suggests 3PLs and their customers continue to improve the quality of their relationships.
Selecting the right 3PL for your business can lead to lower cost per order, better focus of management time, smoother scaling during peak holiday season, lowered capital investment in facilities and systems, reduction of time-to-customer, lowered shipping costs and easier distribution of international orders.
Is a 3PL the right option for your business model? The best place to start your search is MCM's Top 3PLs 2017.