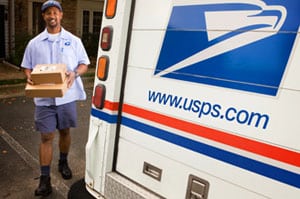 The U.S. Postal Service lost $5 billion in fiscal 2013, which ended on Sept. 30. However, the USPS highlighted in a press release that it did see a slight revenue increase, thanks in part to an 8% growth in its package services business.
The USPS said package volume grew by 210 million pieces (6%), and that fiscal year revenues increased $923 million.
By developing innovative services to appeal to the growing parcel delivery market, shipping and package services grew to $12.5 billion, representing approximately 19% of revenues, USPS said in the release.
Earlier this week, the USPS announced that customers will see a price increase of 2.4% effective Jan. 2014 for its shipping services.
Also this week, the USPS announced a partnership with Amazon that allows the USPS to be Amazon's provider of Sunday deliveries to Amazon Prime members in the New York and Los Angeles markets. Amazon plans to roll the service out in other markets in 2014.