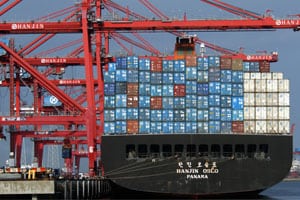 A little over a month after major Korean freighter line Hanjin shut down due to financial issues, the effects are still being felt by retailers in terms of shipment delays from Asia. But it remains unclear what impact it will have on the peak holiday season starting on Cyber Weekend.
An estimated $14 billion in cargo was left stranded when Hanjin filed for receivership in late August, causing shippers to scramble and find alternate means of getting the goods to port.
"Shippers are still dealing with the fallout from the bankruptcy and trying to get their cargo," said Jonathan Gold, Vice President, Supply Chain and Customs Policy at the National Retail Federation. "The impact really varies by individual company and how much business they were doing with Hanjin."
One retailer that may be hit particularly hard is JC Penney, according to a report in Investopedia. The company has been seeing success selling products from Ashley Furniture, but Ashley has about 700 containers stranded on Hanjin ships. It's not known how many of those containers are carrying furniture bound for JC Penney heading into the holiday season.
The chairman of Hanjin told a government panel in Seoul that the company struggled to compete with shipping lines receiving billions in financial support from their home governments, such as Cosco in China, leading to an intense price war.
Justin Reynolds, Director of Inbound Logistics for Ascena Retail Group, said his company was fortunate that its exposure to the Hanjin crisis was limited to ten containers and 186,000 ecommerce units. This led to delays of one to three weeks getting the goods to Ascena's Greencastle, IN fulfillment center.
"Out of 5,500 containers a year that's really fortunate," Reynolds said. "On the flip side many of our domestic market vendors have been affected directly by the bankruptcy, and indirectly as a result of the reduction in supply of vessel space in the market during the highest demand weeks of the year."
Ascena was also fortunate that some of its stranded merchandise was on the first few Hanjin vessels that were unloaded with financial support from its parent company. The rest, he said, was trans-shipped in Busan, South Korea to CKYHE alliance partner vessels en route to the ports of Los Angeles and Long Beach, CA.
Reynolds said many of Ascena's vendors may not know how they are being affected by the Hanjin crisis, so the company is encouraging proactive communication from its brands directly to vendors to discover which purchase orders may be at risk. Ascena brands include Lane Bryant, Dress Barn, Loft, Lou & Grey, Justice, Catherines and Maurices.
"We're also working with our (ocean freight) carrier partners and APL Logistics to weave a combination of paying the right price to get bookings accepted and not rolled (held over to a subsequent ship date), and leveraging those partnerships so they honor our commitments," Reynolds said. "Each origin point has its own challenges each week."
Mike O'Brien is Senior Editor of Multichannel Merchant