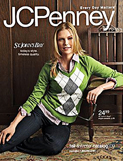 Another big book catalog bites the dust: J.C. Penney announced Nov. 18 it would no longer publish the semiannual big book catalog.
The multichannel general merchant plans to focus on specialty catalogs, and invest more in its Web store and digital services and social media.
J.C. Penney spokesperson Tim Lyons says the decision to stop publishing the big book catalog after the Fall-Winter 2009 edition was based on "what was right for our customer and for our business." Customers' use of catalogs has been evolving over several years, Lyons says, as the books have increasingly become a tool to browse merchandise before shopping online or in J.C. Penney stores.
The Plano,TX-based merchant's specialty catalogs, which include Rooms Babies Love, Cooks and mens' book Matters of Style will address this purpose "and make the process even easier and more rewarding for the customer as they will have received these catalogs based on their purchasing histories," Lyons says.
From an operational standpoint, J.C. Penney has taken steps to improve its targeting for specialty catalogs. During the past two years, it has integrated the merchandising and marketing teams serving stores, jcp.com and catalog into one enterprise-wide team no matter how they prefer to shop. "We wanted to have this work completed before changing our catalog strategy," Lyons says.
Penney's Website is one of the largest general merchandise sites for apparel and home furnishings on the Internet, Lyons says. "And we have millions of opt-in e-mail subscribers with whom we are in regular contact."
J.C. Penney has also developed a range of digital marketing initiatives, such as an iPhone application launched this year and presence on social media sites such as Facebook, where the company has attracted more than 500,000 fans.
Online orders already generate more sales volume than the paper catalogs, Lyons says. The retailer's online sales were about $1.5 billion in 2008, Lyons says.
J.C. Penney entered the catalog business in 1963. Lyons says the largest big book catalog was more than 1,400 pages, while the very last Fall/Winter book, which mailed in June, is 824 pages.
Penney's peak catalog sales hit $4 billion in 1999; big book catalog sales have declined since 2000. By eliminating the big book, the retailer expects to reduce catalog paper use by 25%-30% in 2010.
The news of J.C. Penney dropping its big book was "inevitable, as prior decades have seen the end of the Montgomery Ward, Spiegel and Sears big books, essentially ending a form of retail that transformed the country back in the late 1800s to early 1900s," says Neil Stern, a retail analyst and senior partner for retail consultancy McMillan Doolittle.
The big books that provided access to goods for consumers in remote parts of the country "really began American family's love affair with commerce and enabled the rapid spread of American culture throughout the country," Stern says. Montgomery Ward closed its big book general merchandise catalog in 1985, and Sears Roebuck & Co. discontinued its 106-year-old catalog in 1993.
Stern believes that J.C. Penney holding onto its big book for as long as it did helped smooth the merchant's transition into e-commerce.
"Penney had the name, infrastructure and broad product reach to become an instantly formidable player in what is essentially transforming retail in this century," he notes. "The big book effectively helped them build that bridge."