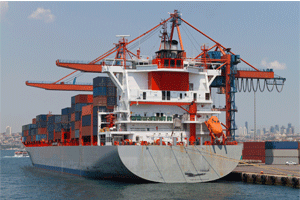 While the two sides wrangle over contract language and who is causing labor slowdowns, massive amounts of cargo continues to pile up at West Coast ports, negatively impacting not only retailers but untold numbers of businesses that rely on goods coming and going via freighter.
The Pacific Maritime Association (PMA), representing owners of the 29 West Coast ports, says it has its last best offer on the table, and that cargo congestion could lead to a crippling shutdown within 5 to 10 days. Various observers have called it the worst domestic ocean freight crisis ever.
Among the more affected retailers, according to Seeking Alpha, are Gap, Lululemon, Walmart, Kohl's, Macy's and J.C. Penney.
If a shutdown is ordered by the PMA, President Obama could step in and invoke the Taft-Hartley Act, ordering both sides back to the table as work continued, like President Bush did during the last major West Coast port labor dispute in 2002. A federal mediator stepped in last month but has been unable to straighten the Gordian knot.
"Our members have shown tremendous restraint in the face of ILWU slowdowns that have cut productivity by as much as 30%, 40%, even 50%," said PMA President Jim McKenna in a release. "This offer puts us all-in as we seek to wrap up these contract talks and return our ports to normal operations."
The International Longshore and Warehouse Union (ILWU), representing 20,000 West Coast dockworkers, in turn accused the PMA of enacting numerous changes in shipping practices that have contributed to the gridlock.
The National Retail Federation has estimated that a West Coast port shutdown could cost the U.S. economy $2 billion per day.
Jonathan Gold, vice president of supply chain and customs policy for the NRF, said many retailers enacted contingency plans as far back as early 2014 in anticipation of the labor dispute. These include use of East Coast, Gulf Coast and Canadian ports and airfreight as needed, and bringing in shipments earlier and storing them in warehouses.
"All of these alternatives, however, come at a significant cost," Gold said. "Some shippers can't avoid going to the West Coast, which leads to significant delays."
Gold said that shipments to the West Coast which typically take 2-3 days to clear port are now taking 7-10 days, in some instances weeks, as the slowdowns cause huge bottlenecks. At San Pedro Bay – part of the major shipping nexus of Los Angeles and Long Beach, CA that handles 40% of U.S. containerized freight – 18 vessels are at anchor waiting to get into port, with more on the way.
"At this point it's either a deal or a shutdown," he said. "They've been at this for nine months now, since negotiations started in May, then the contract expired July 1 without an extension. If there had been one, there would be an arbitration mechanism in place if either party felt the other was causing a logjam, but that option isn't there."
Even if the dispute were resolved today, Gold said, it would have to be ratified by both parties, which could take up to 30 days, during which time the backlog wouldn't be addressed. "What we're hearing from LA and Long Beach, it could take 45-60 days to clear through the backlog we have now," he said.
Last month, 175 industry trade groups representing retail, agriculture and manufacturing and others involved with import/export operations sent a letter to both sides urging them to settle their differences and end the stalemate – clearly to no avail.