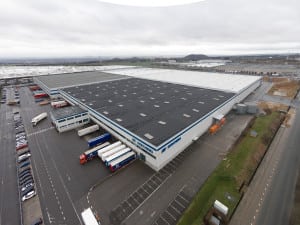 LIÈGE, Belgium–(BUSINESS WIRE)–SKECHERS USA, Inc. (NYSE:SKX), a global lifestyle and performance footwear company, announces the completion of the 4th phase of an expansion to its European Distribution Center (EDC) in Belgium by an additional 26,500-square-meters to a total size of approximately 98,500-square-meters, making it the largest company-operated DC in southern Belgium.
"To meet the increased demand, we are investing in our infrastructure, including improved efficiencies in our European Distribution Center, which allowed us to achieve a record 3 million pairs shipped in a month during February and 8.1 million pairs for the first quarter of 2016," began David Weinberg, chief operating officer and chief financial officer of SKECHERS. "With the completion of our European Distribution Center expansion and with the automation to be fully completed later this year, we expect to be even more efficient in our largest market outside of the United States and prepared for continued growth in Europe."
In April, SKECHERS reported its highest first quarter net sales in the Company's history of $978.8 million which was primarily the result of a 47.1 percent increase in our international wholesale business over the first quarter 2015. Demand for the SKECHERS brand is at an all-time high across nearly every region where the Company distributes its product and Europe in particular has seen strong business with double digit net sales increases in the first quarter for every subsidiary with a comparable period. Highlights include Spain among the top three globally with gains on a percentage basis and the United Kingdom and Germany having the largest dollar gains.
"After outgrowing our storage capacity, we had to manage overflow beyond our facility and this new building will allow us to consolidate storage into the EDC and stabilize our logistics to meet growing needs of the European market over the longer term," began Sophie Houtmeyers, SKECHERS EDC Vice President of Distribution Operations. "This added storage capacity also opens up space in one of our adjoining buildings for the installation of new automation technologies that have improved efficiency elsewhere in our facility. We expect these upgrades to be online by November of this year and when combined with the expansion will prepare us for the future."
The SKECHERS EDC was opened in 2002 over a surface area of 22,500-square-meters. Continued growth of SKECHERS in the European market resulted in an extension of the building in 2009 with 23,000-square-meters of additional space. In 2013, the volume of goods was four times higher than in 2002. The facility expanded again in 2014 to 72,000-square-meters and currently employs 250 full-time equivalent workers. Prior automation technologies installed in Q1 2015 have increased efficiency and additional automation upgrades will be operating by the end of 2016. Over time it is expected that today's announced expansion to 98,500-square-meters will lead to additional hires in both white collar and blue collar positions as new capacity is utilized.
The EDC distributes product to SKECHERS' subsidiary-managed businesses throughout Europe including wholesale accounts, more than 160 SKECHERS retail stores, e-commerce in the United Kingdom and Germany, and to a lesser extent to the Company's distribution partners in the region.
SKECHERS also operates a 170,000-square-meters LEED-Gold certified distribution center in Rancho Belago, California that serves North and South America, as well as additional smaller distribution centers around the world.