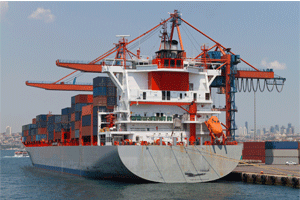 A West Coast port strike, which could happen as early as 5 p.m. PT on July 1 if dockworkers and port management don't reach an agreement, could cost the U.S. economy up to $2.5 billion per day, according to a study commissioned by the National Retail Federation (NRF) and the National Association of Manufacturers (NAM).
In the study, economists at the Interindustry Forecasting Project at the University of Maryland found that the economic repercussions of a port closure would grow with time.
"Any supply chain disruption, whether it's a port slowdown or outright stoppage, would cripple international trade, stymie supply chains and hurt domestic employment and consumer spending," said NRF President and CEO Matthew Shay in a prepared statement. "For retailers and their customers, a port closure would mean a delay in back-to-school and holiday shipments that could significantly drive up consumer prices."
For instance, the study stated that a five-day stoppage would reduce GDP $1.9 billion a day, disrupt 73,000 jobs and cost the average household $81 in purchasing power. A 10-day stoppage would increase those numbers ($2.1 billion per day in GDP reduction; 169,000 jobs affected, $170 in lost purchasing power), and a 20-day stoppage yet still more ($2.5 billion GDP impact; 405,000 jobs affected; $366 in lost purchasing power).
It's expected that negotiations between the International Longshore and Warehouse Union – representing 13,600 dockworkers from San Diego to Bellingham, Wash. – and the Pacific Maritime Association will continue past the Monday deadline, with little disruption to port operations.
Even so, just the threat of a shutdown is having a major impact. Jonathan Gold, the NRF's vice president of supply chain and customs policy, said many NRF members have been bringing in product early to West Coast ports as a hedge against a possible strike, leading to upticks in volume that have led to congestion and other issues. "They've been planning since late last year with their supply chains, based on the uncertainty," Gold said. "They want to make sure that product gets to market when it's supposed to."
The affected ports handle 44% of the container cargo traffic into and out of the United States. According to trade data from the U.S. Census Bureau, West Coast ports handled cargo worth $892 billion in 2013.
John Haber, founder and CEO of shipping and logistics optimization provider Spend Management Experts, said the timing of the strike would be especially bad for retailers who are gearing up now for the back to school shopping season.
Haber said shippers are hoping they don't see a repeat of the last major West Coast port disruption in 2002, which locked out dockworkers for 10 days and cost the economy several billion dollars, according to NRF and NAM.
"The inventory sat around for 10 days, and there was a massive trickle-down effect from so much volume coming in and no capacity to process it in time to get onto shelves," Haber said. "Any delays in that process mean that companies are not selling product."
Eric Souza, director of global forwarding marketing for United Parcel Service, said there was no "one size fits all" contingency plan to deal with the threat of a port strike, as each customer's business model and needs are different. He said UPS will do all it can to ensure as little slowdown or disruption in service as possible, and that its Customs Brokerage can handle increased entry volume due to changes in port of entry.
"UPS started discussions with customers early this year to understand their needs and has maintained communications with our ocean freight customers and ocean carriers as negotiations have been underway," Souza said. "Some customers accelerated shipments to build inventories before July, while others evaluated alternate ports, planned air freight for critical orders or are not taking any action."