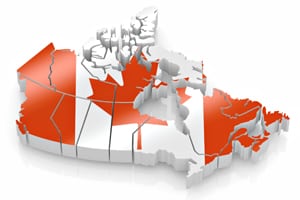 Ending a failed experiment that began in March 2013, Target announced it was closing all 133 of its Canadian stores by the end of 2015, with plans to liquidate its assets. Walmart Canada has been mentioned as a possible acquirer of the assets in published reports.
Target Canada today filed an application for protection under the Companies' Creditors Arrangement Act (CCCA) with the Ontario Superior Court of Justice in Toronto.
"After a thorough review of our Canadian performance and careful consideration of the implications of all options, we were unable to find a realistic scenario that would get Target Canada to profitability until at least 2021," said Brian Cornell, who joined Target as chairman and CEO in August 2014, in a press release. He had been CEO of PepsiCo Americas Foods.
"Personally, this was a very difficult decision, but it was the right decision for our company," Cornell said. "With the full support of Target's Board of Directors, we have determined that it is in the best interest of our business and our shareholders to exit the Canadian market and focus on driving growth and building further momentum in our U.S. business."
[RELATED: Target Can't Say "Blame Canada"]
Sucharita Mulpuru, a senior analyst with Forrester, said some of the key reasons for the Target failure in Canada were an overly aggressive rollout, a product assortment that didn't match what shoppers could get south of the border, and misaligned price points that were higher than similar items in the U.S.
"It seems like this will be a bigger financial debacle for the company than the data breach from 2013," Mulpuru said.
As part of Target's CCCA application, Alvarez & Marsal Canada will oversee the liquidation and wind-down process. Subject to court approval, Target has pledged a $175 million debtor-in-possession credit facility to finance Target Canada's operations during proceedings. Target Canada is also seeking court approval to name Lazard as advisor in connection with the sale of its real estate assets.
To help its 17,600 Canadian employees, Target is seeking approval to place $59 million into an employee trust, and provide them with a minimum of 16 weeks of compensation, including wages and benefits coverage for employees who are not required for the full wind-down period.