A site abandonment survey of more than 60,000 ecommerce shoppers by Bizrate Insights, a division of retail marketing solutions firm Connexity, found that retailers can reduce abandonment of those customers who visited with the intent to buy, but didn't complete a purchase, by listening to their problems and their proposed solutions.
"By focusing on what we call True Abandoners (those customers who visited with the intent to buy, but didn't complete a purchase), retailers are able to quickly identify improvements that will increase conversion," says Hayley Silver, Vice President, Bizrate Insights.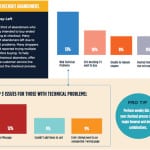 According to the Bizrate Insights study, 11% of ecommerce visitors are True Abandoners and break out this way: 50% are visit abandoners who don't engage the cart, 18% are cart abandoners who leave after engaging the cart but before checkout, and 32% are checkout abandoners who leave after starting checkout. The majority of True Visit Abandoners had difficulty finding the item (21%), size, color or style (17%) they were looking for.
Small discounts and sales notifications might bring the majority of True Cart Abandoners back, with 59% saying they would purchase with a 20% or less discount, and 20% say a notification of when the item goes on sale would help them purchase.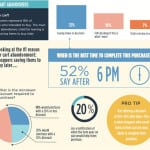 "It's shocking to me that checkout isn't watched like a hawk on all major browsers and devices. It's like having a store where your register doesn't work, and nobody is paying attention to know that or fix it," says Silver. "With the extent of technical, usability, and messaging issues I see consumers reporting, it underscores a huge lost opportunity for revenue."
The Bizrate Insights Site Abandonment Study was conducted via the Bizrate survey platform and offered to online shoppers as they browsed sites from the Bizrate Site Abandonment Network of ecommerce retailers in the US and Canada. Data from this Bizrate Insights Site Abandonment Study was collected from 61,766 online shoppers from Jan. 1 to April 30 2015.