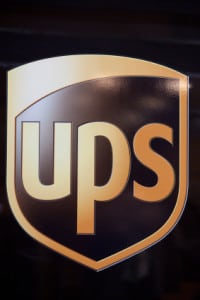 While detailing a 2014 peak season that included inefficiencies in terms of network utilization after massive investments, UPS CEO David Abney told investors and analysts today that that company would add peak season surcharges on residential deliveries this year to recoup its investments and improve operating results.
Abney announced the new surcharges as the company reported disappointing fourth quarter and 2014 financial numbers, driven in part by the $500 million UPS invested in network improvements and higher-than-expected peak season costs. He said the surcharges will be imposed "on a customer-segmented basis," focusing on the UPS SurePost service and residential deliveries.
"In some cases these changes will be implemented over a multiyear period as contracts come due," Abney said. "These pricing strategies will be designed to ensure we are properly compensated for the value we provide. We will align revenue with cost, extracting the value for the investment in our network, especially during peak periods."
For the fourth quarter, UPS reported net income of $453 million, down 61.2% from $1.17 billion in 2013. For the year, net income was $3.03 billion, down 30.6% from $4.4 billion in the prior year.
Abney said UPS needed to make the investments in order to deliver excellent service during a peak season when its shipping volume nearly doubled. To illustrate the enormity of peak, he said UPS averaged over 30 million deliveries per day during the 2014 period, compared to 24 million in 2012. He said this volume was 75% above the daily average, compared to a 55% daily spike two years prior, adding the company expects this trend to continue with the explosion in ecommerce.
"It was important to fortify the trust of our customers and protect our brand (with the network investments), and from that perspective, UPS was successful," Abney said. "While we met our commitment to service customers, we certainly didn't achieve our financial objectives. Executing an efficient operating plan to meet this surge in demand is complex, and ultimately we erred on the side of caution, building a plan that would provide superior service if volume levels exceeded expectation, contributing to higher than expected costs."
Going forward, Abney said UPS will work to manage costs, tighten up its plan and keep service levels high.
"At the same time we will implement rational new revenue actions to improve yield during (peak) period," he said. "UPS is a high-value offering in the market which our customers appreciate. These steps will further align value, cost and yield."
Other statistics from UPS's peak season in 2014:
The company hired 100,000 temporary employees, more than the 90,000 to 95,000 it anticipated last fall;
It delivered 572 million packages worldwide in December;
UPS saw a 12% increase in both Cyber Monday and peak day deliveries (Dec. 22), exceeding projections;
Over 35 million packages were delivered on peak day, more than 100% above an average day.