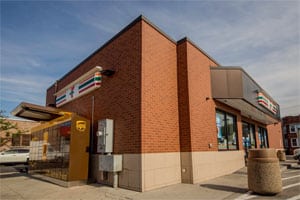 Following a pilot program at nine locations in Chicago begun last fall, UPS has  begun expanding its self-serve pickup lockers to 300 locations in five states by the end of the year, with lockers to be added at locations in eight additional states in 2017.
Initially the UPS lockers will be available in Illinois, New York, Pennsylvania, Virginia and Washington. Subsequent states include California, Florida, Georgia, Massachusetts, Missouri, New Hampshire, New Jersey and Texas. Customers retrieve their packages by scanning a UPS alert or entering a tracking number and inserting a valid photo identification card.
The lockers are part of the company's MyChoice program, which has 25 million members. MyChoice members can opt to have packages directed to a nearby Access Point location, which could be either a locker, a UPS store or a local merchant. There are 8,000 such locations in the U.S. and 24,000 worldwide, although there are only plans for U.S. lockers at present.
The lockers will be located outside 7-11 stores as well as other merchant outlets. UPS is also offering retailers the option to have packages sent to an Access Point location, which could be a locker, as part of the online checkout process. The company would not say which retailers or how many have already signed up.
The lockers come in setups with 47 bays and 68 bays of varying sizes, and are modular to allow customization. The pilot program featured 50-bay lockers, and data on package volume and sizes in Chicago led to the current configurations.
Kalin Robinson, director of the locker program, said it is intended to supplement existing Access Point locations. He also talked about the difference between consumer behavior in the U.S. and Europe, where lockers have become more widespread.
"Europeans tend to focus on just one delivery attempt, while U.S. consumers are very comfortable with three attempts," Robinson said. "We did learn quite a bit from our Chicago pilot. We found consumers started to direct volume to lockers proactively. MyChoice members were saying, don't bother coming to my residence, they just set their delivery preference to a locker location."
Robinson added UPS benefits from costs savings through reduced miles and increased delivery density by consolidating packages in lockers. Retailers can benefit from increased foot traffic, he said, although it remains to be seen if customers will walk into the stores after securing their packages.
UPS is not looking to compete with other U.S.-based locker programs like one from Amazon, which it also participates in, Robinson said. In Europe, multiple carriers often share locker locations.
Louia Dejianne, director of marketing at UPS, said the company works with retailers on ways they can leverage MyChoice. For instance, it can be integrated onto their ecommerce sites through an API to become part of the checkout process.
"It can keep customers on their site, and provide them with a great experience," Dejianne said, "Through the API they can capture opt-in information and use it to create custom marketing messages. For instance, they can offer a coupon for a future item to drive repeat purchases. It's all about providing them convenience and control."
Mike O'Brien is Senior Editor of Multichannel Merchant