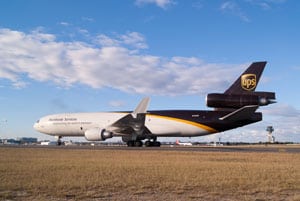 Effective Feb. 2, UPS raised its fuel surcharge rates for ground and air services, as did rival FedEx.
UPS did not signal the coming increase, other than making a general statement during an October earnings call that it would determine rates and surcharges as needed.
FedEx signaled its changes over the holidays, on a webpage that lists surcharge tables, without publicizing them. During FedEx' second quarter earnings call last month, Executive Vice President and CFO Alan Graf said falling fuel surcharges "largely offset" savings from lower fuel prices.
The UPS increases range from 0.25% to 0.75%. UPS is in a quiet period before its next earnings announcement and could not comment on the changes.
Retail shipping observers generally see these changes as a way for carriers to help the bottom line by augmenting revenue without incurring operating costs, while merchant customers bear the burden.
Except for two ground service fuel price points, the fuel surcharge increases for UPS make them slightly higher than those of FedEx:
Air/Express and International Products

If fuel is

FedEx

UPS

Difference

Advantage
$1.95

4.50%

5.75%

1.25%

FedEx
$2.03

5.00%

6.25%

1.25%

FedEx
$2.10

5.50%

6.50%

1.00%

FedEx
$2.18

6.00%

7.00%

1.00%

FedEx
$2.25

6.50%

7.25%

0.75%

FedEx
$2.33

7.00%

7.50%

0.50%

FedEx

Ground Products

If fuel is

FedEx

UPS

Difference

Advantage
$2.91

4.50%

5.50%

1.00%

FedEx
$3.06

5.00%

5.75%

0.75%

FedEx
$3.21

5.50%

6.00%

0.50%

FedEx
$3.36

5.50%

6.25%

0.75%

FedEx
$3.51

6.00%

6.75%

0.75%

FedEx
$3.66

6.50%

7.00%

0.50%

FedEx
$3.81

7.00%

7.25%

0.25%

FedEx
$3.96

7.50%

7.50%

0.00%

N/A
$4.11

8.00%

8.00%

0.00%

N/A
$4.26

8.00%

8.25%

0.25%

FedEx
(Source: Shipware LLC)