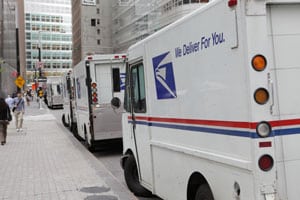 The Office of the Inspector General has announced that the United States Postal Service will end its same-day delivery pilot program, Metro Post, throughout the San Francisco area due to insufficient participation.
The pilot program was launched by USPS in December 2012 solely for the 941 ZIP code areas and enabled customers to order products online any time before 2 p.m. from specific retailers and receive their shipments, the same day, sometime between 4 p.m. and 8 p.m.
Soon after the pilot program was announced, the USPS joined forces with 1-800-Flowers in an effort to offer the fulfillment service to select consumers looking to send last minute gourmet gift ideas. Only four brands from 1-800-Flowers including The Popcorn Factory, Cheryls, Fannie May and 1-800-Baskets accepted the same-day delivery service.
The Inspector General's office was assigned the task of assessing the 12-month pilot program and according to the Feb. 5 report, "The Postal Service did not properly implement the pilot."
The report goes on to say that USPS "did not have sufficient participation from the six selected retailers to achieve the required daily minimum target of 200 packages per delivery day." According to the Inspector General's office, only 95 packages were sent by the six participating retailers over a five month period.
"Implementation in the San Francisco District was based on the expectation of agreements with several large retailers. However, only one large retailer agreed to participate in the pilot, and later withdrew prior to implementation due [to] other operational priorities," the report stated. Therefore, USPS was left with "small local retailers that could not produce the target daily package volume," according to the report.
According to the report, "As a result, the Postal Service earned $760 and spent $10,288, with a net loss of $9,528 on the pilot."
The report states that the pilot program will be suspending beginning on March 1, however, "officials further indicated they plan to re-initiate the program in this location when they can secure large retailers participation."
Erin Lynch is the senior content producer at Multichannel Merchant. Erin can be reached (203) 899-8461
(203) 899-8461 or connect with her socially on Twitter, Google+, and LinkedIn.