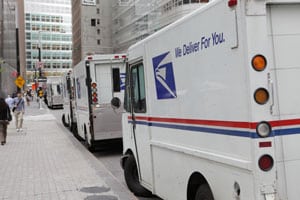 While the U.S. Postal Service on Sunday implemented some significant price increases for parcel delivery, after keeping them low as UPS and FedEx raised a number of theirs, the moves are not expected to create major volume shifts away from the leading last-mile carrier.
Some of the highlights of the price increases, the first in three years, include Priority Mail (up 8.6%); Priority Mail flat-rate box (up 80 cents); Parcel Select (used by UPS, FedEx, Amazon and others for last mile, up 3.1%); First-Class Package Service (up 12.8%); Priority Mail Express (up 14.4%); and Standard Post (renamed retail ground, up 10%).
By comparison, UPS and FedEx instituted general rate increases (GRI) of an average of 4.9%,although this can skew higher based on the size of the parcel, the delivery distance and other factors.
Parcel shipping consultant Jerry Hempstead said there isn't a more effective solution for the last mile than the USPS, and no one can compete with them on price for that service.
"So the increase is what it is and there really isn't an alternative where one can take their business elsewhere," Hempstead said. "This is even truer for the First Class Package Service, where the increases are higher. There is no other place to go to in order to negotiate a better price. Yes one can partner with a third party for workshare discounts but there is no other carrier for these transactions and the shippers will have to be prepared for the hit to their cost models this year."
Hempstead the USPS is "walking a fine line" with the price increases, looking to drive revenue up without losing share to the major carriers. But because of the price increases of UPS and FedEx over the last three years, and the fact that carrier concessions are nearing their expiration, the USPS should be able to take this increase without the fear of losing much, if any, market share, he said.
"The volume increases for parcels moving via the USPS over the last few years has been impressive," Hempstead said. "Most of it has been fueled by competitive prices, free packaging, better tracking, and the meteoric rise of on line purchasing. The USPS has its niche where they are most successful and that's for transactions 5 pounds and under. They can take price increases in those prices and it will stick."
Jeff Crouse, a vice president at Pitney Bowes, said the USPS increases are a way for the government service to play catch-up with its competitors and put pricing more in line with its costs and the value of the service provided.
"Especially after last year, when they had a zero rate increase, this is seen as a very bold move by USPS, showing it is a competitive shipping player," Crouse said. "It's a value play, as carriers have their price increases every year. In some ways this rate increase is pulling them back into alignment with other carriers."
Crouse said all the price increases are causing many of Pitney Bowes's retail clients to take a hard look at their shipping data, reviewing on time and delivery performance in Q4 and throughout 2015 in order to understand costs going forward and determine how to split up their volume among carriers.
"The increases are a trigger for taking a look at your volume and delivery footprint, and figuring out what is the right mix," he said. "In the past I think it was about moving from one primary carrier to another, but now every conversation we're having is about the mix they're looking at vs. a wholesale change."