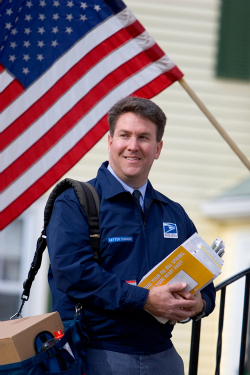 With first-class mail slowly eroding away, the time is now to implement five-day delivery, according to Sam Pulcrano, vice president of sustainability for the U.S. Postal Service.
"The dilemma we have is it's growing and growing exponentially," Pulcrano said during a March 29 conference call. "We really can't do anything without legislative changes."
The Postal Service has seen its mail volume fall 20% since 2006, and it's expected to drop another 20 billion pieces in the next 10 years. First-class mail is expected to fall by 30 billion pieces, while modest growth is anticipated for advertising mail.
The USPS plans to file a request for an advisory opinion on the five-day mail delivery proposal with the Postal Regulatory Commission today. "We need to act as quickly as possible—we cannot afford to wait," Pulcrano said. "The sooner we can get some relief will have some significant impact as to where we end up in that 10-year plan."
To put things in revenue perspective, Pulcrano said three pieces of Standard Mail are needed to make up for one of piece of first-class mail.
According to the proposed five-day mail delivery proposal, letter carriers would stop delivering mail to U.S. homes and businesses and picking up mail from blue collection boxes on Saturdays. But post offices would stay open on Saturdays, and mail would be delivered to post office boxes.
Express mail services also would continue seven days a week. The delivery cuts would save the Postal Service $3.1 billion in the first year, and as much as $5.2 billion by 2020.
So with five-day delivery, there would be six days of service and seven days of network processing and transportation, Pulcrano said. He pointed to recent surveys that, generally speaking, show that about two-thirds of Americans support five-day mail delivery.
Assuming the PRC and Congress approve the plan, Pulcrano said it would take about six months to implement five-day mail delivery. PRC Chairman Ruth Goldway said last week it might take six to nine months for her panel to issue an advisory opinion.
Last week the USPS Board of Governors approved management's request to move forward with its five-day mail delivery proposal and to file a request for an advisory opinion with the Postal Regulatory Commission.
Federal law has mandated a six-day mail delivery schedule since 1983. So even after the advisory opinion process, Congress still needs to lift the restriction before five-day mail delivery could happen.
The USPS launched a Website to provide customers with the details of the proposal, which includes a special section telling business mailers how to manage a change in delivery. The site can be accessed at http://www.usps.com/communications/five-daydelivery.