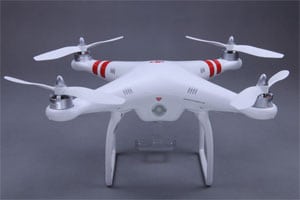 Wal-Mart Stores on Monday applied to the Federal Aviation Administration for permission to begin outdoor testing of drones for home delivery, curbside pickup and checking warehouse inventories, Reuters has reported.
"There is a Walmart within five miles of 70% of the U.S. population, which creates some unique and interesting possibilities for serving customers with drones," company spokesperson Dan Toporek told Reuters.
This puts Walmart in the same ecommerce airspace that until now was only occupied by chief rival Amazon, as well as Google. Amazon has been pursuing drone approval from the FAA since Cyber Monday eve in 2013, when founder and CEO Jeff Bezos announced his plans for Amazon Prime Air on "60 Minutes." For its part, Google made some waves in August when it was able to leapfrog some testing rules with a little help from NASA.
It may eventually get crowded up there, should the FAA eventually green light the service for any of these companies – or others who will surely look to enter the fray.
Up until now many industry watchers have viewed drone delivery as a bit of a gimmick and PR stunt, especially given some of the FAA's restrictions. The agency did ease back a bit in May, though, when it lifted a prior requirement for line-of-sight piloting which Amazon had been pushing for. Walmart's entry into the the drone wars means things are starting to heat up.
The company has been testing drones indoors for some months, and is now seeking permission to do so outdoors, Reuters reports. Walmart is using a Chinese drone manufacturer for its tests.
According to a new Future of Retail study from Walker Sands Communications, consumers are ready for the drones:
• Nearly 80% of consumers would be more likely to shop with a retailer that offers drone delivery to their doorstep within an hour; 77% would be willing to pay for such a service.
• The majority (88%) of consumers would trust drones with delivery for at least one kind of product, with the most popular items being books (74%), clothing and apparel (73%) and pet items (54%)
• 66% of consumers think they will receive their first drone-delivered package in the next five years, while 36% expect their first drone delivery in the next two years
You can read the entire Reuters report here.