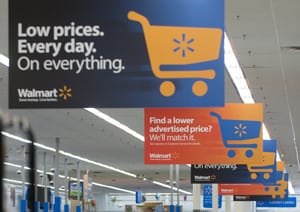 Wal-Mart Stores Inc. reported $114.83 billion in revenue for the first quarter ended April 30, down 0.1% from $114.96 billion in 2014, while earnings per share was $1.03, down from $1.10 a year earlier, as the strong dollar, technology and ecommerce investments and weather combined to create headwinds, the company reported.
Both sales and earnings missed the analyst consensus estimate from Thomson Reuters, which called for earnings of $1.04 per share on $116.21 billion in revenue.
Walmart's ecommerce sales grew 17% in the quarter, compared with 27% growth a year earlier. Its ecommerce investments – which this year will be between $1.2 billion and $1.5 billion – accounted for 2 cents shaved off the company's Q1 EPS. But online transactions still only account for 0.2% of the company's U.S. sales.
The company plans to open four large dedicated ecommerce fulfillment centers, on top of the 11 already in operation, as well as dozens of conventional distribution centers that have been retrofitted. Eighty of its 4,500 stores are used for ecommerce fulfillment.
Walmart is also going more aggressively after Amazon Prime, with a new subscription-based unlimited shipping program that costs $50 per year, compared to $99 for Prime; it will be rolled out this summer in beta on an invite basis.
"As we improve the experience in our stores, we continue to invest to deliver a stronger mobile and -commerce experience," Doug McMillon, president and CEO of Wal-Mart Stores, told investors. "In the U.S., we're rolling out a more simplified checkout process on walmart.com, which is based on our global technology platform, Pangaea. An important part of this platform is that it delivers a better experience on mobile devices. Mobile is increasingly the driver of our ecommerce business."
Greg Clare, CEO of Wal-Mart U.S., said ecommerce saw double-digit comp growth across many departments. "Ecommerce plays a key role in our focus on access for the customer, which is fundamentally around convenience," Clare said. "We're launching the final phase of our new platform related to cart and online checkout capabilities. Our customers are using their mobile devices to access our site on the go. Mobile traffic was up over 100% for the quarter, and we saw higher conversion rates as well."
David Cheesewright, president and CEO of Walmart International, said ecommerce initiatives globally include an improved Sam's Club website and app coming online in Mexico this year, and a new app that will let Chinese customers shop in store and pick up their order either in store or opt for home delivery. Walmart's ecommerce business in Canada continues to be strong, Cheesewright said, with comp sales up 40%; in Brazil it was up "in the double digits," ahead of the overall growth rate in the country, he said.