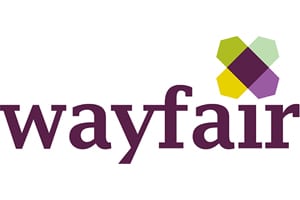 Online home goods retailer Wayfair reported total net revenue of $491.8 million for the second quarter ended June 30, up 66.4% from 2014. The company's direct retail revenue, 90% of which comes from its five ecommerce brands – Wayfair.com, Joss & Main, AllModern, Birch Lane and DwellStudio – increased 80.8% to $440.3 million.
Gross profit was $120.8 million, with a gross margin of 24.6%, compared to 23.2% on $68.5 million of gross profit in the same quarter last year. Wayfair's net loss was $19.3 million or 23 cents per share, down from $23.4 million or 69 cents per share in the year-ago quarter.
Wayfair CFO Michael Fleisher said the gross margin would probably settle in the 23%-24% range, reflective of additional costs including advertising. "We are giving some of this margin back to the customer in the form of price, delivery, and customer service," Fleisher said.
Niraj Shah, co-founder, CEO and co-chairman of Wayfair, said the company's direct retail growth is the fastest it has seen since the beginning of 2014. "It reflects both the ongoing strength in new customers and the increasing repeat behavior from our existing customers," Shah said. "We ended the quarter with 4 million active customers, an increase of 53.5% from Q2 2014 and a net increase of approximately 447,000 customers from the prior quarter."
Shah said the continued growth in both new customers and repeat buying is partly due to the company's strategic shift in advertising strategy in early 2014, when it both increased its ad spend and focused on higher-value customers with a greater propensity to repeat. This has included a number of national TV spots this year.
"Accordingly, we have seen the second quarter in a row of increasing revenue growth combined with year-over-year ad spend leverage," he said.