Online home furnishings and decor retailer Wayfair.com announced the launch of its catalog this week. The 92-page catalog offers the customer a chance to browse furnishings while marrying its online and offline presence.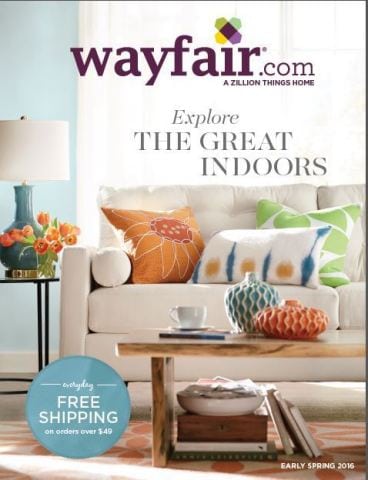 It will showcase 775 unique items, just a tiny percentage of the selection will be available at Wayfair.com. It presents another ways to Explore the Great Indoors by bringing together the best of online and offline for an increasingly immersive shopping experience.
The new catalog will be mailed at a regular frequency throughout the year, however Wayfair disclose what the frequency would be. It is being distributed to both prospects and existing customers.
"Wayfair is changing the way people shop for their homes," noted Niraj Shah, CEO, co-founder and co-chairman, Wayfair. "Part of that process is helping consumers discover all of the new possibilities enabled by our online retail experience in terms of selection, price, service and inspiration. Catalog is typically a medium used to explore a limited selection of higher end furnishings, but for Wayfair, we're featuring great sofas starting at $299 and pillows starting at $14."
Under Wayfair Inc., the brand has a DwellStudio and Birch Lane catalog, but this catalog is new for the brand.
"We think that direct mail is a chance that gives us a valuable, immersive touch point where we can tell our brand stories and enhance the shopping experience for our customers," said Erin Moran, spokesperson for Wayfair. "That said, we currently use direct mail, including catalogs, for DwellStudio, Birch Lane and Wayfair."
The Wayfair catalog is the latest customer touch point powered by quantitative and algorithm based insights. Wayfair's team of buyers and editors created the new home catalog based on proprietary analytics technology developed by Wayfair's 450 engineers and data scientists. This innovative approach is also the backbone of Wayfair's national television advertising and content integrations and partnerships with media brands such as HGTV, Coastal Living, Real Simple, Sunset and This Old House.
"Technology enables us to serve our customers better than anyone else in the industry," added Shah. "We are using our proprietary data and insights to make the shopping experience more tangible while not limiting our customers' access to selection and great prices. Our focus on technology is expansive to new formats that deliver a positive and immersive retail experience to our customers in the home. We will continue to raise the bar on what is possible in home retail."
Daniela Forte is Multichannel Merchant's Content Producer.