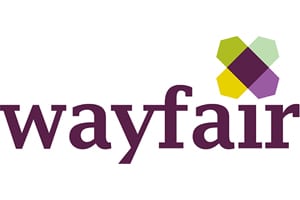 Online home goods seller Wayfair reported net revenue of $787 million for the second quarter, up 60% year-over-year, and $756 million in direct-to-customer sales, as it implements a shift to more insourcing of logistics, enabling faster, more efficient fulfillment.
Wayfair's direct business was up 72% or $315 million for the quarter, making it the third quarter in a row where it increased by more than $300 million.
Under its CastleGate program, begun in early 2015, Wayfair forward-positions suppliers' highest-volume products in its own warehouses, shipping directly to customers to meet next-day or two-day delivery guarantees.
"With CastleGate, we effectively act as a third-party logistics provider to our suppliers, taking no ownership of inventory and receiving fees from suppliers for inventory management and fulfillment services," said Wayfair CEO and co-founder Niraj Shah. "But this program is much more strategic than a simple third-party logistics provider."
Shah said CastleGate has provided a triple win: customers are delighted with next-day and two-day delivery, due to the strategic location of warehouses and their integration into the company's transportation network; suppliers see increased sales, as well as cost and inventory turn figures in line with their own operations; and Wayfair enjoys incremental sales gains, increased customer satisfaction and reduced transportation costs. It's also experiencing a drop in damage incidents as it takes control of fulfillment, resulting in fewer touches per order.
Wayfair, which started the year with 1 million square feet of warehouse space, now operates 3 million square feet of space across multiple facilities in Kentucky, Utah and Southern California, with additional facilities in New Jersey and the United Kingdom coming online this quarter.
"While a small portion of our revenue flows through these warehouses today, it is ramping very quickly, as we aggressively onboard suppliers and lease additional warehouse space to meet the backlog of demand from suppliers who are interested in participating," Shah said.
Shah said Wayfair has also realized efficiencies by taking more control of its large-item deliveries, which make up 25% to 30% of revenue. Since 2011, it switched from using a single white glove, last-mile provider to directly contracting with line haul carriers and pool point operators. It is now further optimizing its transportation by shifting more volume to full truckload, stepping up cross-docking and operating its own pool points and last-mile delivery facilities.
"Similar to CastleGate, this allowed us to speed up delivery times for customers, reduce cost per order over time and reduce touchpoints and damage rates," Shah said. "We also improved the service level we provide to customers by incentivizing delivery personnel based on customer feedback and applying our technology expertise to enable convenient features such as scheduling delivery in cart upon checkout."
Mike O'Brien is Senior Editor of Multichannel Merchant