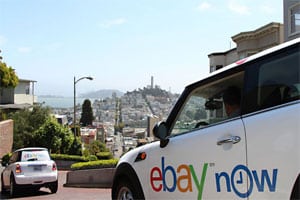 While the same-day delivery segment is getting hotter with more entrants all the time, eBay is going in the other direction by shutting down its eBay Now same-day delivery service in several markets, and also ending another pilot that provided same-day delivery from 80-plus local merchants in Brooklyn, NY.
The major ecommerce marketplace concluded its bread-and-butter offerings didn't match the "I need it now" economy, which is better suited to everyday items like detergent, batteries and paper goods.
The company said it plans to continue to pilot scheduled delivery in the UK. It will also explore "delivery and pick-up/drop-off programs that are relevant to many more of our 25 million sellers, and that cover a wider variety of inventory that consumers tell us they want," said  R.J. PIttman, eBay's Chief Product Officer in a blog post.
Here's a look at this week's other news, commentary and events that shaped the direct-to-customer world:
Marketing

Planet Retail's annual list of the Top 25 Global Retailers had Walmart, Costco and Carrefour in the top three spots. The ranking is based on projected 2015 sales in U.S. dollars, taking into account historic performance, store opening projections and estimated comparable store growth rate. …  Whether brand new site visitors or  loyal customers, shoppers leave behind valuable data that marketers can leverage to develop marketing campaigns. Learn more about the 5 lifecycle stages of the omnichannel shopper. The Amazon Dash buttons are here! The smart  devices, announced on March 31 and initially mistaken for an April Fool's Day joke, became available this week for $4.99 each. Consumers can stick them on a surface to both remind and reorder brands like Gerber and Bounty.
Ecommerce

A site abandonment survey of more than 60,000 ecommerce shoppers by Bizrate Insights found that retailers can reduce abandonment of those customers who visited with the intent to buy, but didn't complete a purchase, by listening to their problems and their proposed solutions. … … Visa Inc. and Stripe, a mobile and online payment provider, today announced a strategic partnership to support new technologies and online payment experiences for merchants, developers and consumers worldwide. … The Amazon Dash buttons are here!
Shipping and delivery

As supply chains are often global in scope and impact fiscal health, supply chain risk is a major issue. Here are some steps to take to mitigate that risk. … Amazon has called for a separate airspace zone across the United States, between 200 and 400 feet, that would be dedicated to commercial drones for parcel delivery, the company unveiled at a NASA convention in California.
Cross-border

Innovation in ecommerce is a worldwide phenomenon, with outside-the-box solutions happening in Asia, Europe and Latin America, research director of global ecommerce at Forrester Research Zia Daniell Wigder told attendees at Multichannel Merchant's Growing Global conference in Hollywood, CA. … Even if you're not trying to sell your inventory internationally, chance are, more than 10% of your ecommerce site traffic – and more than 7% of your ecommerce sales – is cross-border. Imagine how much higher those numbers would be if you put a cross-border ecommerce strategy in place? Find out how leading retailers are building the right cross-border ecommerce roadmap to success.
Mergers and Acquisitions

Canadian men's clothing retailer Grafton Fraser Inc., which runs Tip Top Tailor, has acquired 35 Jones New York women's wear stores that had been expected to close. The company plans to expand to at least 50 outlets in the next five years. … Supply chain management solutions provider HighJump has acquired Nexternal, a cloud-based ecommerce platform company based in California. … The TJX Companies, Inc. has signed a definitive agreement to purchase Trade Secret, an off-price retailer that operates 35 stores in Australia, from Gazal Corporation Limited for $80 million (Australian).
Financials

UPS reported second-quarter earnings that were ahead of analyst estimates, even though revenue was slightly below expectations, the latter hurt by the strong dollar and the continuing decline in fuel surcharges due to lower oil prices. Revenue was $14.1 billion, down 1.2% percent from 2014. The adjusted earnings per share figure was $1.35, well ahead of the analyst consensus of $1.26 per share.