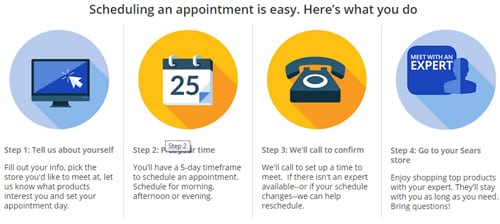 Sears has introduced "Meet With An Expert," a "free and first-of-its-kind service" that improves the home appliance shopping experience by connecting online shoppers with knowledgeable associates in store.
It seems fitting that Sears made this announcement on October 21, 2015, which was "Back to the Future Day." Because back in 1985, I could walk into a Sears store, go to the appliance department, and talk to a knowledgeable salesperson about my refrigeration needs. Without an appointment.
Because back in the 1985s, stores were staffed. With salespeople. We had these things called "telephones" back then, and you didn't even need to use those to call a Sears appliance department and ask to meet with a salesperson. You just walked in – that's how it happened!
One could say this is revolutionary – you find the item you want, you click and schedule an appointment, and you meet with that expert to learn more. That part is pretty revolutionary. But at the same time, the customer should be able to go in and meet on their time, not at a time that's most convenient to the bare-bones scheduling of a Sears store.
I've said it before, and I'll say it again: Omnichannel does not work when retailers refuse to staff their stores at an inadequate level. Stores rely too, too much on the in-store digital experience at the expense of knowledgeable human salespeople, and it only leads to frustrated customers who will bring their loyalty elsewhere, and disenchanted store employees who will look for a job elsewhere.
Yes, retailers, your penny-pinching ways is saving you a lot on labor costs. But that also leads to free negative word-of-mouth campaigns that will haunt your brand.
Back to the Sears news… Maybe Sears should have hired Michael J. Fox and Christopher Lloyd to reprise their Back to the Future roles, complete with the DeLorean, to make this announcement a big splash. But alas, Sears Holding Inc. is losing money hand over fist in 2015, and doesn't seem to have that kind of cash available.
Maybe someone should go back to 1985 and warn Sears and Roebuck about Eddie Lampert.
– Intro by Tim Parry
Here's a look at this weeks' news, commentary and events that shaped the direct-to-customer world… and more.
Marketing

Halloween is just around the corner, this infographic shows how marketers can boost their Halloween sales…Forrester Research reported 10 Critical Success Factors in the age of the customer for 2016, will you be ready?…Pinterest partners with PointSource Partners and IBM to develop buyable Pin API integration for IBM Webshere Commerce customers…
Ecommerce

Bemax launched an ecommerce site with a focus on disposable baby diapers,…overstockart.com launched its new ecommerce site…Elie Tahari relaunched ElieTahari.com… Costume and lingerie seller Yandy.com says the 33139 zip code of Miami's South Beach is the sexiest Halloween neighborhood…  NetSuite says retailers are still struggling to unify online and in-store experiences… iPad Point of Sale provider Revel Systems announced the availability of a new ecommerce mobile application solution that extends the functionality of brick-and-mortar commerce into mobile…
Operations

Amazon Prime Same-day delivery made plans to expand to the San Antonio, San Francisco Bay, Chicago and Orlando areas…and Amazon announced it will charge $299 a year for its Amazon Fresh delivery. … For the first time since 2012, Best Buy is offering free shipping on all orders through Jan. 2, dropping its normal $35 threshold for the perk. … FedEx plans to build a 250,000-square-foot regional distribution center in Seekonk, MA. … FedEx Express has reached a six-year contract agreement with the Air Line Pilots Association Intl. (ALPA), while members of the Independent Pilots Association (IPA) voted overwhelmingly to strike against rival UPS. This doesn't mean the UPS planes will be grounded immediately, but it does authorize IPA's executive board to ask for a release from federally mandated negotiations with UPS, which could lead to a strike that Teamsters said they would join. … 3PL Venture Logistics LLC plans to build the 400,000-square-foot distribution center in Indiafacility
… And more

Grainger reported a 1% decline in sales of $2.5 million in the fourth quarter...J.C. Penney cut 300 jobs in an effort to cut costs in its Plano, Texas headquarters. Gap Inc. appointed Tracy Gardner to its Board of Directors…Lululemon Athletica said on Wednesday that chief product officer Tara Poseley is leaving after just two years with the premium yogawear retailer