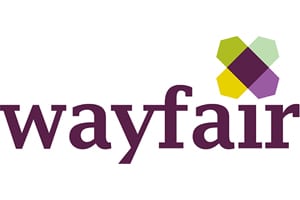 Is there anything Wayfair LLC didn't do this past week? Last Thursday, during its fourth-quarter earnings call, CEO Niraj Shah said Wayfair's direct business grew 98% to $686 million in the quarter, and that its customer base grew 67% to 5.4 million.
On the same call, Shah said its cross-border expansion plans for Canada, and Europe (led by the UK and Germany) are very promising.
On Monday, Wayfair.com launched a 92-page catalog based on proprietary analytics technology developed by its 450 engineers and data scientists. And on Tuesday, Wayfair introduced two new specialty shops and an exclusive collection of style-smart household essentials to help shoppers find just the right items for their homes.
Let's face it: Wayfair had a great February: On Feb. 22, Wayfair announced plans to open its fourth customer service center in Bryan, TX, which will employ about 450 employees, and on Feb. 17, Sharif Sleiman was named Vice President of Supply Chain and Operations.
Here's a look at this weeks' other news, commentary and events that shaped the direct-to-customer world… and more.
Introduction by Tim Parry, Managing Editor of Multichannel Merchant
Marketing

Best Buy shut down its marketplace to third party sellers this week.
Got questions about Facebook Dynamic Product Ads? This blog post by Sidecar is providing the answers.
Macy's will focus on personalization in its new spring campaign featuring user-generated social media content on billboards.
Ecommerce

Jet.com COO Scott Hilton told Multichannel Merchant that its acquisition of Hayneedle was an opportunistic one…
Merchants are losing ground with their mobile checkout conversion, according to the PYMNTS.com and BlueSnap Checkout Conversion Index.
Digital is of high importance for customers today. A new report by Kibo revealed that retailers need to adapt, or risk losing customers if digital needs are not met.
According to Forrester, India is the fastest-growing ecommerce market in the Asia-Pacific region, projected to grow five-fold by 2020 to $75 billion. The report also says that China for the first time surpassed the U.S. in ecommerce sales in 2015, and is projected to reach $1.1 trillion by 2020.
A new report from Experian lists Florida as the state with the highest risk of ecommerce fraud, followed by Delaware, Washington D.C., Oregon and California.
William (Bill) Quinn has joined Hibbett Sports as Vice President of Digital Commerce…
Operations

Are you impressing your customers with packaging? This new blog post by IDS offers four great ways to do so.
What does it mean to train your customer care agents to be "shopkeepers" for your brand? Two leaders of the customer operations team for Vermont Country Store give a sneak peak of their session on the topic at Operations Summit 2016 in this video interview.
The growing popularity among its customers of buy online, pickup in store and the ability to share inventory seamlessly between physical locations and ecommerce helped J.C. Penney continue its turnaround with a strong fourth quarter as some retail competitors stumbled.
… And more

Privately-held The Sports Authority has filed for Chapter 11, and plans to close about 140 stores and two distribution centers, according to court documents…
Target Corp., hired Amazon executive Arthur Valdez to handle supply chain. Valdez will be Target's executive vice president of supply chain and logistics…