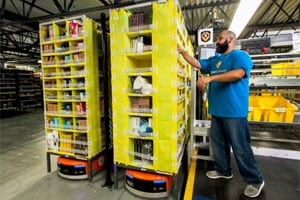 Amazon has taken another step in its march toward world dominance, as Bloomberg has reported that the company plans to create a global shipping and logistics operation. Code named "dragon boat," and unofficially Global Supply Chain by Amazon, the network would control the massive flow of goods from China and India to the U.S.
While the company's CFO said on its most recent earnings call it is only looking to augment the services of UPS and FedEx, especially during the Christmas holiday rush, many observers, including Bloomberg, think it's a clear indication of an intention to muscle out the major carriers. The plan reportedly dates back to 2013, the year that about 1 million Amazon packages were delivered late due to carrier issues.
The move also has implications for the Alibaba Group, as Amazon battles the Chinese giant for a major piece of the global cross-border ecommerce market, estimated to reach $1 trillion by 2020.
As the news was breaking, major brands speaking at this week's Global Ecommerce Leaders' Forum in New York said Amazon's lack of sharing data with sellers can make it a less attractive marketplace to do business with globally. They added, however, that Amazon's massive footprint made it difficult to say no.
Introduction compiled by Multichannel Merchant Senior Editor Mike O'Brien
Here's a look at this week's other news, commentary and events that shaped the direct-to-customer world.
Marketing

Ecommerce

Holiday 2015 marked a tipping point in mobile commerce conversion, according to a new research report compiled by Sidecar.
Looking to grow your ecommerce business? Here are four tips that will make the global expansion an easy one.
Alexandria, Va., is considered the most romantic city in the nation by Amazon, according to a compilation of sales-based data of customers who bought relationship books, romance novels, and movies that are romantic comedies.
Online transactions in India totaled around $23 billion in 2015, and are expected to reach $120 billion by the turn of decade, according to a research paper released by the Associated Chambers of Commerce of India (ASSOCHAM).
Heartland Payments Systems has acquired privately held Beanstalk Data, a leading provider of customer engagement platforms.
Party City has entered into an ecommerce fulfillment relationship with Staples, which will allow its products to be merchandised and sold on staples.com.
Rue La La has added Apple Pay as a method of payment on its mobile app.
Operations

FedEx has purchased two adjacent distribution centers in Quincy, MA from Boston Scientific for $31 million; the two companies will each occupy one of the facilities.
Just in time for Valentine's Day, the same-day flower delivery wars are heating up in Baltimore and elsewhere, pitting Amazon Prime Now against rivals like 1-800-Flowers and Pro Flowers, as well as of course local shops.
According to new data from StellaService, shipping times have slowed for non-Prime orders from Amazon between 2014 and 2015, while the overall StellaService index of 40 retailers has seen improved performance, an indication that retailers' omnichannel investments are paying off.
Johnson & Johnson Health Care Systems is outsourcing its Memphis distribution center operations to 3PL Genco, which FedEx purchased in 2015.
Considering a replatforming of your ecommerce system? Don't give short shrift to the order management piece of the equation.
W.B. Mason has signed a 16-year lease on a 190,000-square-foot office and warehouse building in Columbia, MD.
U.S.-based Jules Smith and Naked Wardrobe and UK-based Hill & Friends, The Fold and Timothy Everest are among the latest retailers in the fashion and apparel segment to use Brightpearl inventory management solutions.
… And more