These days, consumers are getting better and better at navigating ecommerce on their own. Provide them certain baseline features and the average shopper can find, buy and receive their items without ever having to talk to a human.
In fact, they're not only able to do it, they want to. According to the 2018 Microsoft Global State of Multichannel Customer Service report, 92% of consumers expect brands to offer some sort of customer care self-service. It's a win-win, because the more you're able to automate, the more you reduce costs at your service center.
But not every feature of customer care can or should be automated, which leaves you with the difficult decision of figuring out where to lend hands-on support, and what to make self-service.
At Ecommerce Operations Summit 2019 in Columbus, OH, a panel of experts came together to discuss this issue and help merchants sort out their options, including Kevon Hills, vice president of product operations at Power Reviews; David Sasson, president and CEO of Overstockart.com; and Stan Lucas, principal at Lucas Advising.
Panelists shared these 10 tips to help merchants determine when customer care self-service makes sense, and when to provide live agent support.
Match your self-service to customer expectations
Modern customers have certain baseline expectations, and unfortunately for small brands, Amazon has set the bar pretty high. If you can't match Amazon, you need to make your contact info very prominent, and over-deliver on customer experience.
Be honest about which elements of the Amazon experience you can realistically accomplish. Compare that against what your customers expect, and use the overlap to come up with the best solution.
When building your self-service strategy, here's a helpful mantra: Deliver the baseline experience, occasionally exceed expectations, and never disappoint.
Evaluate potential new features on their complexity vs. likelihood of escalation
Measure complexity both on your end (what would it take to automate?) and the customer's end (how much effort does it take to use?). When an issue is escalated it can have a negative impact on the customer experience and your CSAT scores.
Prioritize the low complexity-low escalation features first, then work your way up: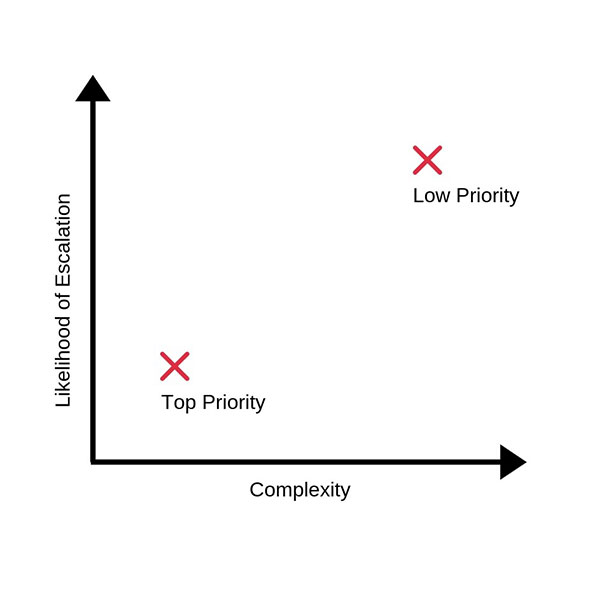 Estimate the business impact in terms of both ROI and data integration
Ultimately, you want to improve dollars per visit. Try to approximate all the ways a new customer care feature could impact your bottom line, including reducing low-value calls, increasing high-value calls and boosting customer lifetime value.
Next, determine whether the feature will drive new data that you can integrate into your systems. If it doesn't make you smarter or improve the customer experience, it's not worth pursuing.
Self-service isn't about what's easiest for you but what's easiest for them
If you automate customer care based on your own convenience, you risk undermining your customer base. Figure out what's important to them. Talk to superfans, read your reviews and find the questions and issues people keep asking your help center. Customer experience is now the biggest factor in driving repeat purchases.
Clearly showcase product reviews, sizing info, and comparisons on all product pages
Provide customers with as much information as possible to help them make the right purchasing decision and minimize returns. Include all product reviews, both good and bad; honest reviews build trust and transparency.
If you're not sure how to best provide sizing information, Zappos does a great job. In terms of providing product comparisons, take a look at how Best Buy does it.
Provide real-time inventory information, especially any post-order issues
Out-of-stock notices are key. It may take some work aligning your product pages with your backend systems, but being upfront with buyers about post-order issues reduces friction and improves the customer experience.
Amazon and Ralph Lauren are two examples of companies that do a great job providing up-to-date inventory information.
Help buyers find answers to their questions and other common inquiries with an FAQ page
Adding a search bar to your FAQ page will make buyers more self-reliant. Putting simple icons at the top to denote the most popular topics helps reduce friction even further. For a top-notch FAQ page, despite all its other troubles, check out Sears.com.
Let buyers save their info, see order details, and do basic self-service with an account page
The more tools you can give your customer the better. Common tasks like returns and package tracking should be prominent and self-service friendly. Make your shipping fees and policies abundantly clear throughout the process. Research has shown that over half of abandoned carts are due to a lack of upfront transparency.
Shift performance metrics toward an experience-based contact center
Contact centers used to be reactive, but many companies now view customer care interactions as opportunities to improve service, strengthen relationships and gently upsell. Move away from speed and efficiency metrics (i.e. handle time) towards customer satisfaction metrics, (i.e., first contact resolution, CSAT, net promoter score, review scores, etc.).
Automate generic tasks to improve the quality of incoming queries and give your reps an opportunity to politely upsell.
Have executives undergo the customer experience themselves in order to get buy-in
Invite your executives to try completing a particular task so they can experience customer pain points firsthand. Execs get frustrated faster than your customers, and will be more likely to invest in the solution. If they don't want to try it firsthand, gather customer feedback through surveys and reviews and present that to company leadership.