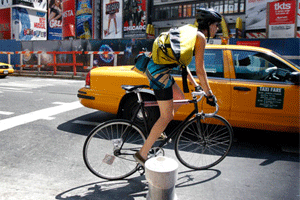 Amazon announced it has expanded its Prime Now one- and two-hour delivery service to include all of Manhattan. The service began as a trial in one area of Manhattan near Penn Station in mid-December, with orders fulfilled through its leased space at West 34th St.
"We have been steadily adding zip codes since we launched in December," said Amazon spokesperson Kelly Cheeseman. "Manhattan customers love Prime Now and we are excited to expand soon to other boroughs." The company also plans to offer the service in other metro areas, but would not name them.
Cheeseman said orders are fulfilled by associates who walk, take public transportation, bike or drive to deliver to customers.
Prime members can download the Prime Now app on iOS and Android devices, and get notifications when the service is available in their area. Prime Now is available from 6 a.m. to midnight, seven days a week. Two-hour delivery is free and one-hour delivery is available for $7.99.
There are tens of millions of Prime members around the world. In the U.S., membership includes unlimited free two-day shipping on more than 20 million items.