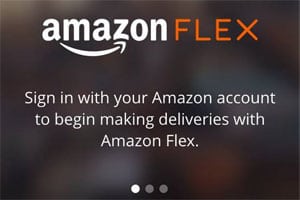 Amazon Flex, a new program that taps independent contractors as couriers for one- and two-hour deliveries, has launched in the company's hometown of Seattle, with plans to expand to New York, Baltimore, Miami, Dallas, Austin, Chicago, Indianapolis, Atlanta and Portland.
This is a new wrinkle for Amazon, which until now has used drivers under contract with third-party companies for rapid delivery service Amazon Prime Now, as it takes a page from the Uber playbook.
"Amazon Flex, the newest delivery innovation by Amazon, enables individuals to be their own boss while earning up to $25 per hour or more delivering ultra-fast Prime Now orders," said company spokesperson Kelly Cheeseman. The range of pay for Flex drivers is $18 to $25.
The move comes at an interesting time, as global ride and delivery service Uber is facing pressure related to its classification of drivers as contractors. Postmates, Shyp, and Washio are also being sued by workers claiming they're employees. Two weeks ago, a district court judge in California sided with a former Uber driver seeking employee status that the company couldn't force her into arbitration.
Regarding the contractor vs. employee issue, Cheeseman said Amazon Flex couriers "desire to be their own boss and to have a flexible schedule."
"For those who want something more traditional, we are hiring thousands and thousands of people across the company in full-time roles," she added.
Prime Now, which launched in December 2014 in New York, is in 11 metro areas including Atlanta, Austin, Baltimore, Chicago, Dallas, Indianapolis and Miami, with more expected by the end of the year. In August, Prime Now finally made it to the home port of Seattle. Two-hour delivery is free for Prime members, while they pay $7.99 for one-hour delivery.