Effective Dec. 29, UPS ground, air and international rates will increase by an average of 4.9%. Keep in mind that there is often a discrepancy between the announced increase and the effect on individual shippers.
Our team at Shipware will perform a detailed analysis of the announced increases over the next week, but in the interim, here are some areas that will likely provide the most impact on merchant shippers:
Longer zone UPS air services will see larger increases, while all ground zones will see similar ones: Shippers are more likely to utilize longer zones in the express networks, as the ground networks become more efficient in accommodating 1-2-day transit times in the lower zones. Therefore, it's likely that heavy UPS air shippers will take larger increases. Following is a comparison of air to ground:

2-3-day shipping has larger increases than other services: This will negatively affect shippers with day-definite (but not overnight) shipping needs. Increases are consistent across weights for air services, but generally increase by weight for ground services.

Full weight/zone breakdown of ground services increase:

The ground minimum package charge (zone 2, 1 lb. list rate) has increased by 4.84% to $8.23, which mirrors FedEx: Following is a full breakdown of minimum charge increases by service: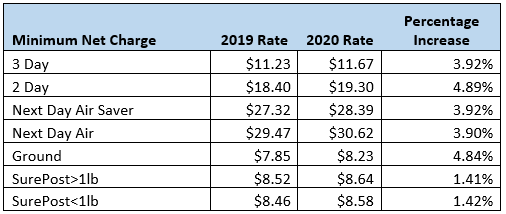 SurePost increases are much lower from 1-9lbs (2.2%) than at 10+lbs. (5.3%): This will allow UPS SurePost list rates to better compete with FedEx SmartPost list rates, although the SurePost rates remain higher by approximately 3-4% from 1-9 lbs.
UPS has followed FedEx in placing a new emphasis on "Extended" Delivery Area Surcharges (DAS): ZIP codes designated as extended delivery areas will incur a much larger increase than their non-extended DAS counterparts. Refer to the full table below for the full breakdown of the increases.
Standard DAS increases range from 1.2%-5.3%
Extended DAS increases range from 11.3%-23.2%
Note that DAS/Extended DAS ZIP codes have changed; see the changes here
UPS has added new accessorial charges for 2020: Rebill fee, Prohibited Item fee, Item 86 fee:
A rebill fee ($17) will be assessed for each request to change the billing account for a shipment.
A prohibited Item fee ($150) will apply to packages containing prohibited articles or restricted articles not in compliance with all UPS policies and procedures, and applicable laws and regulations if found in the UPS system.
A processing fee ($10) will apply to each request to file a single entry under Entry Type 86 for a shipment that normally qualifies for U.S. customs clearance under a consolidated manifest.
This table shows assessorial increases for UPS's most commonly assessed charges: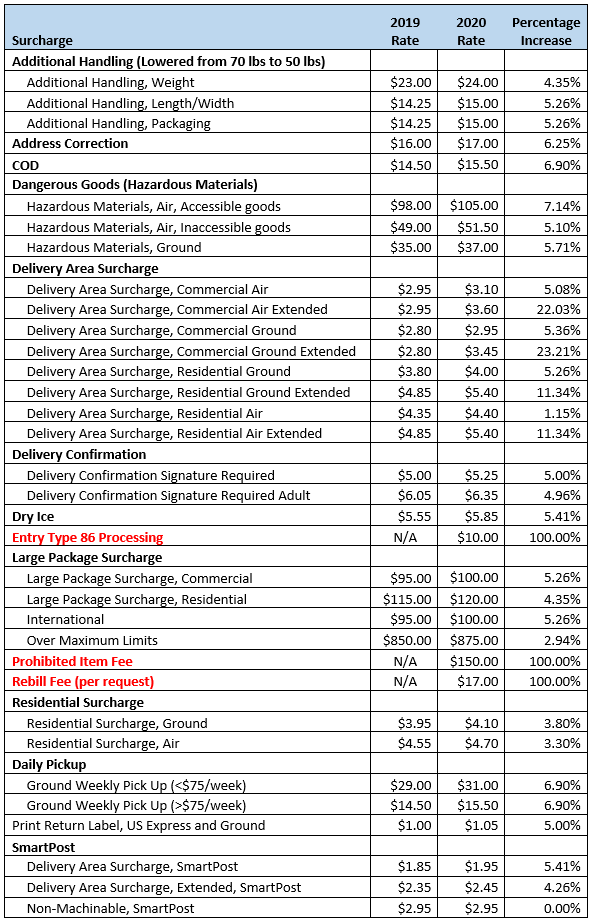 Also, effective Dec. 29, new surcharge ratings will occur:
Value-added services and other charges will apply to undeliverable packages returned to the shipper
UPS reserves the right to assess a late payment fee in an amount set forth in its Tariff/Terms and Conditions of Service if an invoice is not paid in full by the due date
The weight threshold for applying an additional handling surcharge will be lowered from 70 lbs. to 50 lbs. actual weight for UPS Ground and UPS Air services
How will this affect individual shippers? The general rate increase will affect some shippers more than others. If you're a shipper that routinely uses two or three day, long-zone express, or ships to remote areas, it is likely you'll be subject to an increase much larger than the stated 4.9%.
As is the case with each annual rate increase, it is vital to understand how all changes combined will impact your individual characteristics and, ultimately, your overall shipping costs. However, understanding the financial impact to your organization is not a simple or straightforward analysis.
Matt Bohn is a Senior Consultant, Professional Services at Shipware, LLC