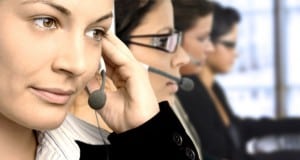 Customer service is a crucial component of any ecommerce business. When you get it right, it can be extremely rewarding — proof that you're building a tribe of followers, cheerleaders, and referrers who love what you do. It's this side of customer service we all enjoy and use to spread positive messaging in the form of testimonials, case studies, and reports.
However, like most tough moments in business, it's often the negative-slanted conversations that reveal our true colors. The situations we endure with less-than-happy customers are the benchmarks that show you and your team where you can improve and how you can do better in your current workflow.
At One Click, we named our team of call center agents the Customer Happiness Team. This was an intentional decision to show our customers that we take their happiness seriously, and to show our agents that they have the power to make someone's day, everyday.
Empowering your call center agents to handle negative customers on their own is a major step in leveling up your overall customer service. Making this a priority not only teaches your agents valuable skills, it shows your entire company that you value independence and accountability in all team members, no matter their role.
Here are a few ways you can get started in making sure you're setting up your call center agents for success from day one.
Set The Stage For Success
It takes a little bit of groundwork to empower your agents to work on their own. One way to lay this foundation is to make sure you choose the right metrics when it comes to evaluating your team's performance. If you want to empower your agents to solve problems on their own, hold them accountable for a customer satisfaction score over a call-handle time. Prioritizing this metric shows them that your company values helping customers work through problems, no matter the length of time, as opposed to just rushing customers through the queue.
On top of metrics, ensure that your company's overall mission statement and core values trickle down to inform the everyday decisions of your call center agents. If your agents are keeping the message of their department motto or company vision statement at top-of-mind throughout their calls, they'll be more likely to solve customer problems with purpose and intention.
Provide Agents With Valuable Training
Onboarding training should be a critical period of learning for your call center agents. A detailed overview of your company's systems, policies, and products at the beginning of an agent's career can help prevent situations in which a customer is really hostile.
Another essential part of training is teaching your agents how to actually manage their calls. That is, teaching your agents to be in control of the call, rather than letting the customer take the driver's seat. The details of this type of training should include techniques and tools that will show your agents how they can calm customers down and create an environment in which problems can actually be solved. The basic model here is to listen first, apologize and show empathy, and only then should they begin to offer solutions.
Don't stop there! Once initial call center agent training is done, it's important to provide ongoing coaching. Set aside the resources (and the time) to focus on professional development a few times per quarter. This keeps your agents fresh and provides opportunity for continuous learning.
Ensure Your Policies are Customer-Centric
If you assume the customer is always right, make sure your company policies reflect that sentiment. Adopting more liberal customer-facing policies can help prevent some customer service issues from occurring in the first place. But when problems do arise, you want to ensure your policies and rules aren't so strict that your agents can't work around them.
On that note, make sure your internal, call-center specific policies are crystal clear. Provide detailed guidelines on how agents can make exceptions and navigate policies with customers when they're on a call.
Arm Your Agents With a Budget of "Fix-It" Money
More often than not, solving a customer service issue involves spending a little bit of internal budget to either replace a product, or cover shipping costs. Providing your agents with a pool of "fix-it" money, either individually or as a group, can help team members feel more empowered to fix situations and offer exceptions to policies. If they're armed with the knowledge of how much the company is willing to spend on customer service solutions every day, week, and/or month, they'll be better equipped to solve those problems on their own.
Make sure you determine clear policies around how much money each agent is allowed to spend before involving their supervisor. Doing so empowers your team members to feel even more ownership in their day-to-day problem solving.
At One Click, we strive to empower our entire Customer Happiness Team to act like owners and feel confident when it comes to handling angry customers. Getting all your call center agents and team members on board and confident when handling negative customers is a process, but if you're willing to invest the time, the rewards that come from turning angry customers into happy ones is priceless.
Angie Stocklin is Co-Founder and COO at One Click.