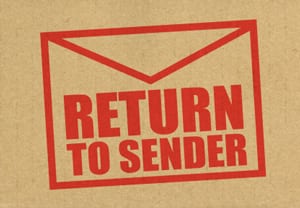 Due to the massive delays in 2013 holiday season shipping, global ecommerce solution firm Innotrac is expanding its quantitative and qualitative studies of retail shipments and returns to include the pre-Christmas rush as well as Cyber Monday.
In its study of 2013 Cyber Monday data from 230 retailers, Innotrac found increases both in order shipping times and returns from 2012 and 2011, which had remained relatively flat.
"I wish we had data from last year (before Christmas), it would be nice to see what it showed in terms of retailer and carrier performance," said Melissa O'Keefe, senior director of ecommerce and marketing for Innotrac, who oversees the research. "We knew from Cyber Monday 2013 that shipping on orders and returns were slower, but people are more forgiving on Cyber Monday orders than when they order a few days before Christmas and the package doesn't make it.
In its research, the company has noted an increasing trend toward either free returns or the inclusion of prepaid return labels – which deduct the cost from the return credit – as retailers see consumer-friendly policies as a competitive weapon.
"Both of those are trending upward," she said. "Retailers requiring customers to pay for returns, conversely, is trending downwards. In 2012, 53% of retailers we surveyed required customers to sign and pay for returns, which dropped to 45% in 2013. In June of this year, it dropped a bit more, to 43%."
O'Keefe said the tendency toward free or prepaid returns varies by category. For instance, apparel and accessories retailers are among the most likely to provide the service: as of August, only 25% of them required customers to sign and pay for their own return label, while another 26% provided free returns. By contrast, 64% of home improvement/housewares retailers required customer-paid returns as of June, while 8% offered free returns and 28% provided a prepaid label.
To conduct its research, Innotrac places orders within the same four-hour seven times per year, before 12 p.m. ET, then returns the items, and collects data about the entire process. It uses about 100 data points and creates scorecards for the participating merchants.
To gauge orders and returns at this year's Christmas rush, Innotrac will order items on either Friday, Dec. 19 or Monday, Dec. 22, depending on audit data from retailers on cutoffs dates that allow for standard shipping.